CSC News
October 24, 2007
NC State's Insight Racing Team Heads to the DARPA Urban Challenge National Qualification Event
Provided with permission from NC State Engineering News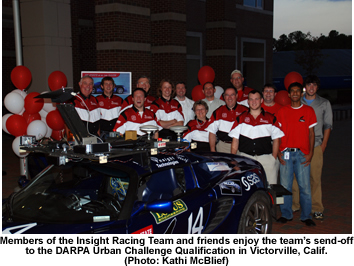 The North Carolina State University-sponsored Insight Racing team and their robotic Lotus Elise — the "Lone Wolf" — head to the decommissioned George Air Force Base in Victorville, Calif., this week to compete in the Defense Advanced Research Projects Agency (DARPA) Urban Challenge National Qualification Event that begins October 26.
The team —NC State faculty, students, Lotus Engineering, sponsoring companies, members of the technical community and retired business executives — is one of only 36 participants from an original field of 89 to advance to the national qualification event.
Rigorous qualifying rounds will be held from October 26 through October 31 to determine the safest and most capable autonomous vehicles. In the final race on November 3, up to 20 of the qualification winners will compete against each other on a 60-mile mock urban course. A total of $3.5 million in prizes will be awarded to the fastest vehicles that are able to finish the race under six hours while obeying traffic laws, performing traffic maneuvers and avoiding obstacles and other robotic vehicles.
Well-wishers and major sponsors gathered on NC State's Centennial Campus for a send-off celebration October 17. Confidence and spirits were high.
Dr. James J. Zuiches, vice chancellor of extension, engagement and economic development at NC State, joined the celebration and sported an Insight Racing Team shirt. Zuiches had just returned from a science and technology conference in Japan where he had an opportunity to hear Etsuhiko Shoyama give a talk. Shoyama is president, CEO and director of Hitachi, Ltd., and a member of the Council for Science and Technology in Japan.
"Mr. Shoyama named five [science and technology] priorities," said Zuiches. "Traffic safety and security was one of the five priorities. I immediately thought of our team, who are using technology to create a safer vehicle."
DARPA started the Grand Challenges Races in 2004 with the goal of developing technology that would allow the U.S. military to use autonomous ground vehicles to conduct missions. Safe operation in traffic is essential to U.S. military plans.
Not only has the Insight Racing Team developed a safe robotic vehicle, they have done it with what Simon Cobb of Lotus Engineering, Inc., laughingly referred to "as a compromised vehicle."
Lotus Engineering and the new North Carolina Center for Automotive Research (NCCAR) in Northampton County are major sponsors of the Insight Racing team.
Cobb explained that when he offered Grayson Randall, founder and team leader of Insight Racing, and Walt Sliva, adjunct lecturer in the Department of Electrical and Computer Engineering at NC State, the Lotus Elise for the DARPA Challenge, they both laughed because the elegant sports car did not have enough room for all the necessary computers and equipment. However, Randall and Sliva took the generous offer back to the rest of the team, who decided to accept it and embraced the added challenge of downsizing the equipment.
The Lotus Elise is the only sports car in the race. Shep Pitts, team member and doctoral student in electrical engineering at NC State, acknowledged the challenges of downsizing equipment but noted that the Lone Wolf's agility is an advantage when maneuvering through the course.
When asked about the team's chances of winning the Grand Challenge, Grayson Randall said, "Good. We've worked very hard. All the teams are very good. There have been phenomenal advances in technology since the first Challenge in 2004."
The event is free and open to the public. For those who are unable to travel to the DARPA Urban Challenge, there will be a live webcast of the final race on November 3 at www.darpa.mil/grandchallenge/index.asp.
— mcblief —
Return To News Homepage