CSC News
October 03, 2007
Layman, Williams, St. Amant Win Best Paper Award at ESEM 2007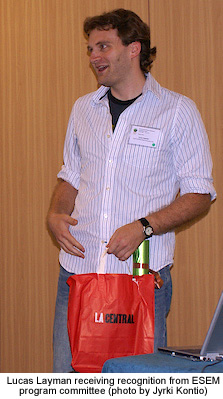 Congratulations to doctoral candidate
Lucas Layman
, and associate professors
Drs. Laurie Williams
and
Robert St. Amant
, as their paper, "
Toward Reducing Fault Fix Time: Understanding Developer Behavior for the Design of Automated Fault Detection Tools
", won the
Best Paper Award
at the
International Symposium on Empirical Software Engineering and Measurement (ESEM) 2007
, held on September 20-21, 2007 in Madrid, Spain.
The paper chronicles a controlled study conducted with 18 software developers to explore what factors are used by developers to decide whether or not to address a fault when notified of the error. The findings of their study lead to several conclusions about the design of Automated Fault Detection (AFD) tools to effectively notify developers of faults in the coding phase. First the AFD tools should present fault information that is relevant to the primary programming task with accurate and precise descriptions. Second, the fault severity and the specific timing of fault notification should be customizable. Finally, the AFD tool must be accurate and reliable to build trust with the developer.
The objective of the International Symposium on Empirical Software Engineering and Measurement (ESEM) is to provide a forum where researchers and practitioners can report and discuss recent research results in the area of empirical software engineering and metrics.
This conference encourages the exchange of ideas that help understand, from an empirical viewpoint, the strengths and weaknesses of software engineering technologies. The conference focuses on the processes, design and structure of empirical studies, and the results of specific studies. These studies may vary from controlled experiments to field studies and from quantitative to qualitative studies.
The best papers in the symposium will be published in a special issue of the
Journal of Empirical Software Engineering
.
Layman is co-advised by Williams and St. Amant.
~jeffers~

Return To News Homepage