CSC News
September 24, 2007
Department Hosts Inaugural Fidelity Investments Executive Speakers Series Event
The NC State Department of Computer Science hosted the inaugural
Fidelity Investments "Leadership in Technology" Executive Speakers Series
event on September 11 in Engineering Building II on NC State's Centennial Campus.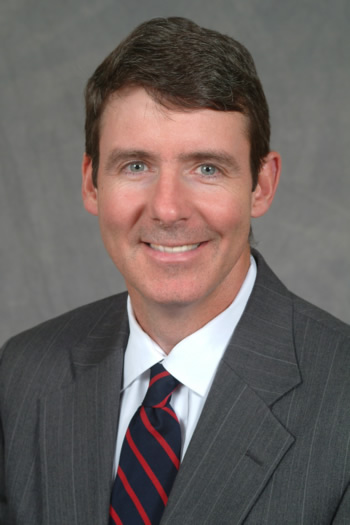 Stephen Scullen
, President of Fidelity eBusiness, was the inaugural executive speaker in the series. He spoke on "The Evolution of the Web in Financial Services," providing examples of how Fidelity plans to use Web 2.0 technologies to enhance the use experience and how their use of technology is fueling the company's strong market position.
The launch of the new executive speakers series was made possible as a result of a generous sponsorship donation from Fidelity Investments. It is one of many events being staged by the department of computer science this fall in celebration of their 40th anniversary.
According to
Ken Tate
, director of development and external relations for the department, the series is an outgrowth of a very popular executive seminar-based course created within the department. "Our 'Leadership in Technology' course was one of our most popular courses," said Tate. "Making this transition from course to speakers series, allows us to reach a much larger audience and have a greater impact on the lives of our students."
During his welcome and speaker introduction,
Dean Louis Martin-Vega
expressed his appreciation to Fidelity Investments for their support of the new series, commenting, "While our leaders had the vision for this new series, we all know that it takes much more to turn a vision into a reality. So today, we extend our deepest gratitude to our partners, Fidelity Investments for providing the tangible resources which have helped make this vision a reality."
The series will feature a number of high-profile, technology-focused business leaders. The fall schedule will include
Matthew Szulik
, Chairman & CEO of Red Hat, on October 16th, and
Frank Plastina
, President & CEO of Tekelec, on November 14th.
The Fidelity Investments "Leadership in Technology" Executive Speakers Series talks will be held in Room 1025 in Engineering Building II on NC State's Centennial Campus. They start at 6 pm and are free and open to the public.
For more information, consult the
series page
.
~weston / tate ~
Return To News Homepage