CSC News
August 30, 2007
NC State Recognized as a 2007 Laureate for the Virtual Computing Laboratory Project
The
Computerworld Honors Program
(
www.cwhonors.org
) recognized
North Carolina State University
as a 2007 Laureate in the category of education for its
Virtual Computing Laboratory (VCL)
project in a medal ceremony at the Andrew W. Mellon Auditorium in Washington, D.C., on June 4.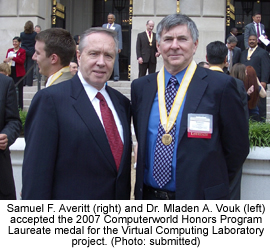 Samuel F. Averitt
, vice provost for information technology at NC State, and
Dr. Mladen A. Vouk
, professor and head of computer science and associate vice provost for information technology at NC State, accepted the medal on behalf of the university.
Each year the Computerworld Honors Program recognizes people, organizations and institutions from around the world for their visionary applications of information technology.
In 2004 NC State introduced the VCL (
vcl.ncsu.edu/
) cyberinfrastructure project. VCL has two components. One is that of providing services in the form of desktop-type applications, in-class group applications and more complex service or teaching environments; the other is to provide high-performance computing (HPC) teaching and research computing cycles. Several other UNC system universities use VCL, and through the IBM Virtual Computing Initiative, a number of other higher education institutions in the United States and abroad are implementing it.
At NC State,
Aaron Peeler
, program manager of IT advanced academic computing initiatives, leads VCL development, and
Dr. Eric Sills
, assistant vice provost for research computing, leads the HPC implementation and services.
The Computerworld Honors Program will include the VCL case study as part of the Global Program Archives on six continents and in the permanent research collections of over 350 distinguished national archives, museums and institutions of higher learning.
Return To News Homepage