CSC News
August 13, 2007
NC State Engineer Visits Site of Minneapolis I-35 Bridge Collapse
- Joint Team of NC State University and University of Cincinnati researchers to develop advanced methods and technology for better structural heath prognostics of bridges.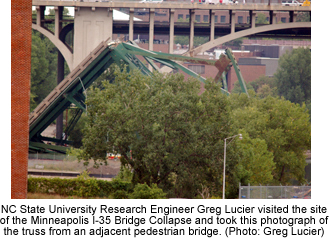 Gregory W. Lucier
, research engineer from the NSF Industry/University Cooperative Research Center (I/UCRC) on Repair of Buildings and Bridges with Composites (RB
2
C) within the Department of Civil, Construction, and Environmental Engineering at North Carolina State University, was part of a four-person joint university research team to visit the site of the Minneapolis I-35 Bridge Collapse three days after the tragedy occurred on August 1. Joined by
Dr. Haixia Wang
,
Mohamed Abuali
and
Linxi Liao
from the NSF I/UCRC on Intelligent Maintenance Systems (IMS) at the University of Cincinnati, Lucier visited the site at the request of the National Science Foundation (NSF).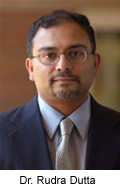 A collaborative research team of faculty, postdoctoral researchers and graduate students from the two centers has been working on a project funded by the NSF to more effectively predict and prevent bridge failures through the use of advanced methods, materials and technologies. Leading the project from NC State are Dr. Sami Rizkalla, Distinguished Professor of Civil and Construction Engineering and director of the Constructed Facilities Laboratory and the RB2C; Dr. Mihail L. Sichitiu, associate professor of electrical & computer engineering; and Dr. Rudra Dutta, associate professor of computer science. Dr. Jay Lee and Dr. Haixia Wang lead the project for the University of Cincinnati.
Although the bridge and adjacent areas were blocked off as an accident investigation scene, Lucier and the other members of the team were able to walk the perimeter, take photographs and ask questions. They witnessed the major impacts of the catastrophe, including the psychological effects of the people in the area, the strain on local resources, business closures, traffic jams, collateral infrastructure damage and pollution.
The team believes that new technology can improve the accuracy, quality and efficiency of bridge health assessments. Traditionally, such assessments rely primarily on visual inspections.
According to Rizkalla, researchers at the RB2C and IMS centers are working to accurately quantify and predict bridge deterioration by developing a telematic (the sending, receiving and storage of information via telecommunication devices) platform for bridge monitoring and health prognostics. They intend to achieve this goal by integrating the extensive research on physics of bridge damages and instrumentation of bridge monitoring systems conducted at the RB2C center with the Watchdog Agent®, a remote monitoring and prognostic technology developed by the IMS center.
Their research is intended to help prevent such tragedies as the Minneapolis I-35 bridge collapse.
— mcblief —
Technical Contact:
Dr. Sami H. Rizkalla, 919.513.1733, Sami_Rizkalla@ncsu.edu
Gregory W. Lucier, 919.513.7322, greg_lucier@ncsu.edu
Media Contact:
Kathi McBlief, 919.515.2283, kathi_mcblief@ncsu.edu
Return To News Homepage