CSC News
August 09, 2007
Insight Racing's Driverless Robotic Sports Car Qualifies for $2M Race
Story Provided with Permission from Insight Racing
North Carolina State University
(NCSU) sponsored
Insight Racing Team
is one of the select few invited to participate in the
Defense Advanced Research Projects Agency (DARPA) Urban Challenge National Qualification Event
in October. The race posting a $2 Million prize will pit driverless autonomous vehicles in an urban race to complete missions over 60 miles of city driving conditions. The final race is scheduled to be conducted on November 3rd of this year.
Insight Racing is the only team from the Carolina's eligible to compete and they will be there with a sleek Lotus Elise.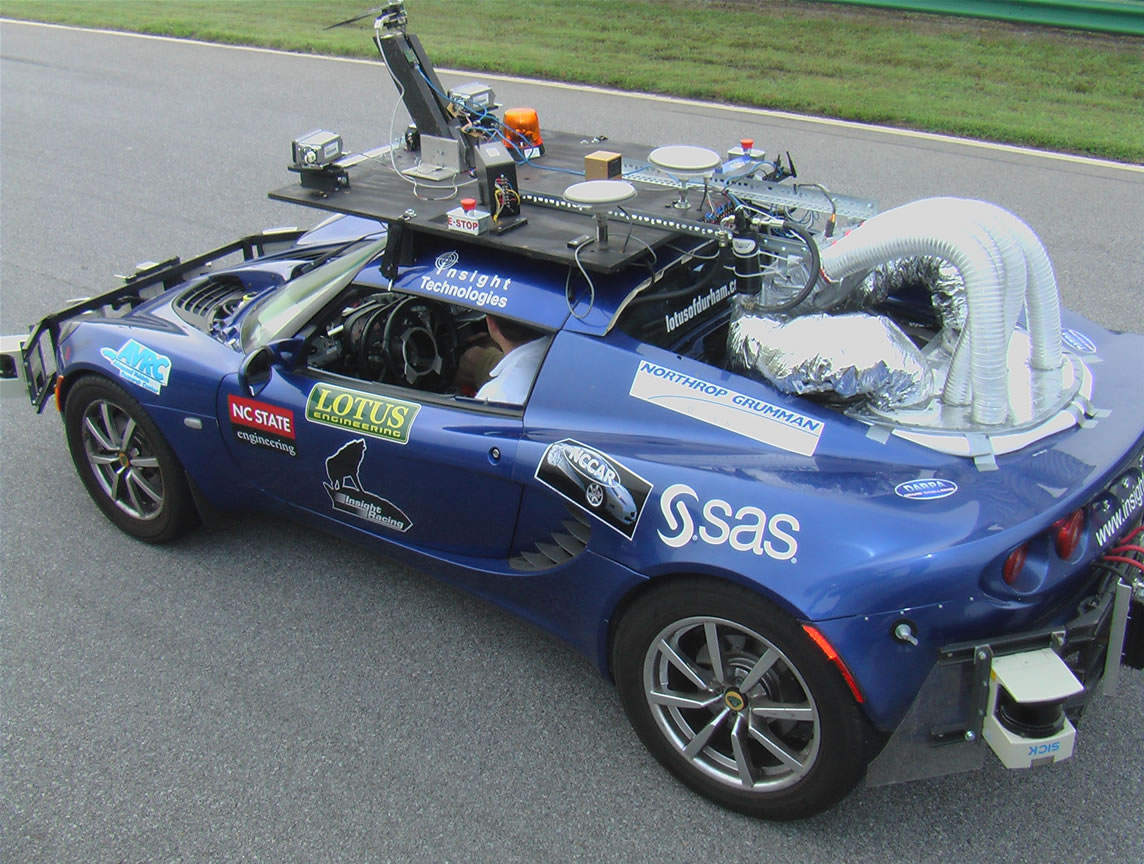 Driven by a Congressional mandate to convert one-third of the military vehicles to driverless computer-driven mode by 2015, the Department of Defense who authorizes the event, believes the future holds great promise for autonomous vehicles to perform missions that put our men and women in uniform at risk. The Urban Challenge is the third in a series of Grand Challenge events. The first 2 races in 2004 and 2005 featured vehicles that navigated a 132+-mile course through the Mojave Desert. Although none of the vehicles completed the course in the first Grand Challenge, 5 teams completed the course in 2005. Insight Racing placed 12th in that event.
First prize for the November 3rd race is $2 million for the vehicle that completes all of the missions on the urban course in the fastest time under 6 hours. The field was narrowed down to 36 participants from the original 89 entrants on the basis of site visits that demonstrated the viability and capability of each entrant.
Grayson Randall
, Insight Racing founder stated "The technology developed for the Urban Challenge gives us a glimpse of how driving will change in the not-too-distant future. Smart highways will be populated with smart cars, which will dramatically change how we get to travel. An outstanding team effort was needed to advance to the next phase and we got it." Randall went on to say "We have an exceptional team that is comprised of faculty and students from North Carolina State University, Lotus Engineering, Inc., sponsoring companies, members of the technical community and retired business executives who bring a vast array of experience, expertise and enthusiasm to the team."
"As a performance engineering company, Lotus Engineering has a legacy of integrating emerging technology into breakthrough vehicles which is exactly what this challenge is all about. I believe that Insight Racing has assembled a winning team and Lotus Engineering is proud to be part of the collaboration," said
Don Graunstadt
, Chief Executive Officer & President of Lotus Engineering.
According to
Walt Sliva
, Adjunct Lecturer in the Department of Electrical and Computer Engineering at NC State University, "Many NC State University students have had the opportunity to participate in this challenging problem. It has enriched their educational experience to work on a real world problem with so many integrated disciplines needed to succeed."
Insight Racing's Lone Wolf has been featured in the
Discovery Channel's Daily Planet Show
and will be featured in a BBC Special called "
The Future
" which is scheduled to air worldwide this fall.
Last month, the Lone Wolf set an autonomous vehicle record on the full course at Virginia International Raceway.
To sponsor the team or for more information, contact Walt Sliva at (919) 931-1118 or wjsliva@ncsu.edu.
####
About Insight Racing
: Insight Racing is a robotic vehicle racing team sponsored by NC State University, Lotus Engineering, Insight Technologies, The Advanced Vehicle Research Center, SAS, Northrop Grumman, NC CAR, Comtrol Corporation, Smith Anderson, Ascot Technologies, Auto Europe, BC Micro LLC, PC MedEvac, Tekelec, Automation Direct, Cinnamon Peripherals, DataWatt Solutions, NC Global TransPark, Four Brothers Auto, gridconnect, Lotus of Durham, Novatel, OmniSTAR, PEAK system technik, Revware, Sanford Lee County Regional Airport, Yokohama Tires, Four Brothers Auto and Henry's Muffler Shop. More information can be found at www.insightracing.org.
About the DARPA Urban Challenge
: The DARPA Urban Challenge race is the third in a series of Grand Challenges. It has captured international attention because this driverless vehicle race stretches the limits of current technology know-how. Detailed information can be found at www.grandchallenge.org.
For more information, contact
:
Walt Sliva
wjsliva@ncsu.edu
Insight Technologies, Inc.
P. O. Box 157
Morrisville, NC 27560
(919) 468-8558
www.insightracing.org
Return To News Homepage