CSC News
June 22, 2007
Perros Delivers Keynote at Optical Networks Workshop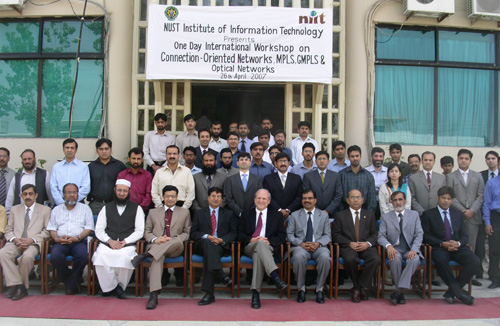 Dr. Harry Perros
, professor and alumni distinguished professor of computer science at NC State University, was the guest of honor at the National University of Science and Technology's (NUST) Institute of Information Technology (NIIT) in Islamabad, Pakistan during the last week of April 2007.
Perros, an optical networks expert, headlined a one-day workshop on optical networks entitled "Connection Oriented Networks, MPLS, GMPLS and Optical Networks." He delivered a number of lectures and the keynote address for the event. Following the workshop, Perros gave several lectures to NIIT graduate students.
NIIT and Perros have established a joint research collaboration, which will also involve NIIT students and faculty spending time with Perros at NC State University in Raleigh, NC.
~jeffers~

Return To News Homepage