CSC News
June 08, 2007
Charles W. Kelly / ISSA Scholarship Endowment Officially Launched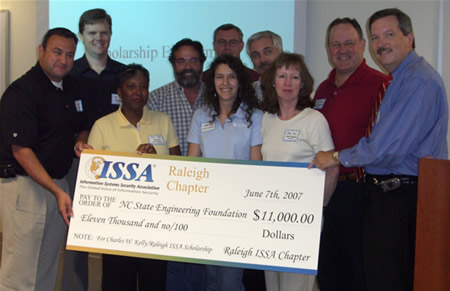 As part of a multi-year pledge, the Raleigh chapter of the Information Systems Security Association (ISSA) has made an $11,000 donation to the Department of Computer Science at NC State, allowing for the official launch of the
Charles W. Kelly / ISSA Scholarship Endowment.
Leaders of the local ISSA chapter, both past and present, were on hand to make the check presentation during their June meeting held at EBII on Centennial Campus.
The scholarship endowment, named to honor the founder of the Raleigh ISSA chapter,
Charles W. Kelly
, will be awarded annually to a qualified junior or senior with a demonstrated interest in working in the field of computer security.
During the endowment pledge period, the local professional organization has made $1,000 scholarship awards, and will continue to do so while the endowment matures.
Ken Tate
, director of development & external relations for the department, expressed appreciation to the group for their support of computer science students with this endowment. With well over 1,000 students, he emphasized the importance the department has placed on growing our endowments to help attract and retain the very brightest students and faculty. Tate commented, "This becomes our 15th official endowment, and the third to officially be launched this year, our 40th year as a department. We are so appreciative of ISSA's support and we invite other professional organizations to follow their lead."
Chapter President,
Steve Toy
said, "We are very grateful for the relationship the ISSA has with NC State and hope to continue to expand it in the future."
Individuals or corporations interested in contributing to this fund should make their donations to the "NC State Engineering Foundation" noting for the "Charles W. Kelly / Raleigh ISSA Scholarship Endowment" in the memo section. Donations can be sent to the NCSU Department of Computer Science, Campus Box 8206, Raleigh, NC 27695.
Return To News Homepage