CSC News
May 29, 2007
Game On: Making Science Fun
By Lauren Gregg, NC State News Services
"OK class, put away your paper and pencils and start your computer. It's time to play your video games."
These once unlikely sentences may soon become commonplace, as researchers at North Carolina State University's Friday Institute work to engage middle school students in science, technology, engineering and mathematics (STEM) content through the use of online games.
"This generation of students has grown up with the Internet around them, yet we are still teaching them like we did 20 years ago," says
Dr. Len Annetta
, assistant professor of science education at NC State.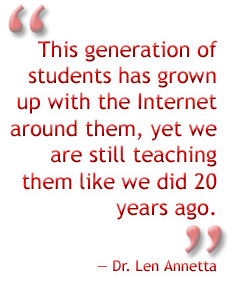 Through a $1.2 million grant from the National Science Foundation, the
HI FIVES (Highly Interactive, Fun Internet Virtual Environments in Science)
program is working to help middle school teachers design and implement fun Internet games that help teach students STEM content and that are based on the North Carolina Standard Course of Study in science. All teachers involved with this project are Kenan Fellows, public school teachers selected through a competitive process to participate in a prestigious two-year fellowship … all while remaining active in the classroom.
"With the HI FIVES project, we are reaching out to students in a new way through the use of online games to show them that math and science can be a lot of fun," Annetta, the lead principal investigator on the project, says. "It's been well documented that as our students move through the K-12 system their scores on standardized tests in math and science go down. Part of that is that they are just not engaged, so we need to expose them to what engages them and what they enjoy doing. If we can embed science or math concepts within video games, where the students solve problems or make decisions based on their knowledge of the subject, then I think that's a win-win situation."
Dr. R. Michael Young
, associate professor of computer science in NC State's College of Engineering and co-principal investigator on the project, created an interface on which to build the games, giving them the look and feel of commercial games the kids play at home. The interface also makes it easier for teachers, most of whom have no formal training in software development, to create their own custom games.
Young says in order to make the process of game making more accessible, the researchers utilized Half-Life 2, a leading commercial game. The resulting program, called Virtuoso, provides a simple graphical interface that can be used to populate a virtual space with 3-D characters and objects, to give those characters behaviors and to build an interface that captures the look and feel of a commercial game. Users can also select from a range of predefined "skins" or backgrounds. In all, the user learns how to build a game that adopts the stylistic conventions of commercial games without having to do the programming and artistic design.
HI-FIVES is a unique program, Annetta says, because teachers learn how to build games themselves, and therefore can tailor their games to specific desired learning outcomes. The first cohort of teachers from Wake, Durham, Guilford and Lee county schools and Chapel Hill Schools received training last summer to learn the game-design process. Then, last August, the teachers started creating their games and utilizing them in their classes. This summer, a new cohort of teachers from Wake County, Cary Academy and Lee County will go through similar training on how to use the software to construct games.

A few games already being utilized by these the teachers range from exploring the solar system, to analyzing crime scenes, to building a cell's DNA structure, to stopping a red fire ant invasion and much more.
Also this summer, the first group of teachers will return along with a few of their students for another workshop. Annetta says that the plan is for the students to take what their teacher has created and make it more fun. "We want to foster relationships between student and teacher and have them working together. Most importantly, rather than just creating a game and making the kids play, they own it, they can change the environment, they have the ability with the interface we've created to manipulate their surroundings."
"Most educational games are designed by software developers with the help of educational software design experts," Young says. "What's different about these games is that they are being built by the same teachers and students that will be using them."
Those teachers will take the games that they and their students have created and use them in the classroom next year. Then researches will be able to examine any difference in student gain or student attitudes between the first games created by the teachers and the games the students created.
Annetta says that by the end of the three-year project, they are hoping to have at least 100 games that align with the state's math and science standards. Those games will be available to everyone online.
"The HI FIVES program has given me the opportunity to explore fun new ways to deliver curriculum content to my students" says
Chad Ogren
, a science teacher at Enloe High School. "The process of building the games has exposed me to new technologies and has also strengthened my storytelling ability."
Both Annetta and Young agree that the most important thing about this project is that it is getting students engaged in and excited about learning science and math concepts.
"The processes of building and playing games is highly engaging for kids, and if those engaging activities are integrated with science and math learning, the students' enthusiasm can help motivate them to explore deeper understandings of the science concepts they're building into their game worlds," Young says.
Learn more about the HI FIVES program and see sample games (
link
).
Original story provided by permission from
NC State News Services
.
Return To News Homepage