CSC News
May 25, 2007
Department Celebrates Year-end with Pig Pickin'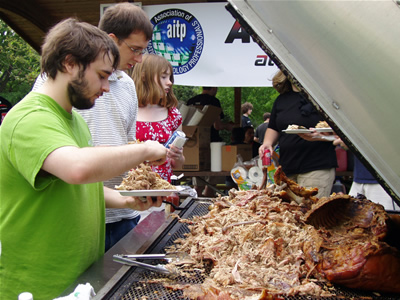 The
2007 ACM/AITP Computer Science Year-end Pig Pickin'
was held on Friday, April 27th at Pullen Park.
The Pig Pickin' is an annual tradition within the department, providing everyone a chance to unwind and celebrate the conclusion of another successful academic year.
This year's event was sponsored by
Cisco Systems
and
The Vanguard Group
.
Attendees were treated to an "all-you-can-eat" buffet of barbeque, fried chicken, and fixin's. A complete vegetarian buffet was also be provided by the Women in Computer Science (WiCS).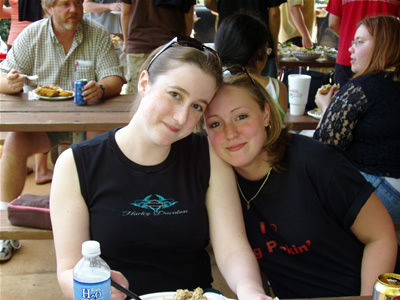 In addition to the great food, students, faculty & staff, and their families, friends and guests enjoyed beautiful weather, games, rides, and the many other amenities available at Pullen Park.
During the event, UPE held its honorary inductions and ACM presented several year-end awards including:
o The "
Most Helpful Professor Outside the Classroom
" award went to
Dr. Laurie Williams
o The "
Professor with Most Insightful Lectures
" award went to
Dr. Carla Savage
o The "
Outstanding Lecturer
" award went to
Luke Lenzen
o The "
Joyce Hatch Service Award
" went to the
Women in Computer Science (WiCS)
organization
In keeping with tradition, students also took full advantage of the annual 'Pie-a-Professor' fundraiser.
~jeffers~
Return To News Homepage