CSC News
May 24, 2007
Antón Named 2007 St. Pius X Distinguished Alumna
Dr. Annie Antón
, associate professor of computer science at NC State University, has been honored by the St. Pius X Catholic High School in Atlanta, Georgia, as the recipient of the
2007 St. Pius X Distinguished Alumna
award.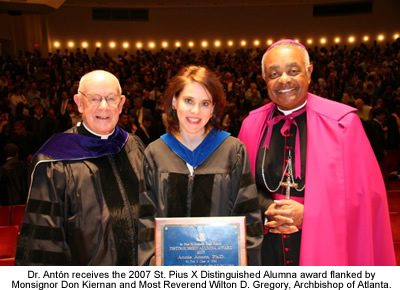 The Distinguished Alumna Award is bestowed each year on a graduate who exemplifies the ideals and values of the school in his or her professional achievement, commitment to the community, concern for young people, and overall pursuit of excellence.
In his introductory remarks, alumni director
David Buechner
commented on Antón's ever-expanding list of accomplishments including her advanced degrees and career as a college professor in computer science, her appointments to eight national boards, her role in founding and leading three active academic research groups, her prominence as a nationally recognized speaker and consultant, and the fact that she has been named "A Woman of Influence" by CSO Magazine in 2005. Buechner commented, "Her achievement is more notable in light that her parents came to America from Cuba with $80, their faith, and a desire for better life for their family."
During an inspiring address to the St. Pius X graduating class of 2007, Antón said, "There are a lot of people who would be amazed that I am where I am today because of what I was like when I was younger". She confided that she was not the best student in grade school, and that she got into her fair share of trouble with the teachers. When she was 11, she was diagnosed with Dyslexia and Attention Deficit Disorder. This diagnosis and resulting treatment, along with the help and support of her parents, teachers, and a few "angels" along the way, helped her turn disadvantages into advantages.
"It's unfortunate how those to whom things come easy are sometimes satisfied with just getting by and taking the easiest path. In contrast, there are those who struggle mightily to overcome obstacles and they persevere until they succeed", Antón told the graduates. "Never believe anyone who says you can't accomplish something meaningful because if you're willing to work hard enough, you will!"
To read her entire address, visit the St. Pius X Catholic High School
site
.
For more information on Dr. Antón, visit her
site
.
Return To News Homepage