CSC News
May 14, 2007
Department Confers 120 Degrees During Spring Diploma Ceremony
On May 12, 2007, approximately 1,000 relatives and guests watched in pride as 120 degrees were conferred by the NC State Department of Computer Science during the
Spring Diploma Ceremony
held at Providence Baptist Church in Raleigh.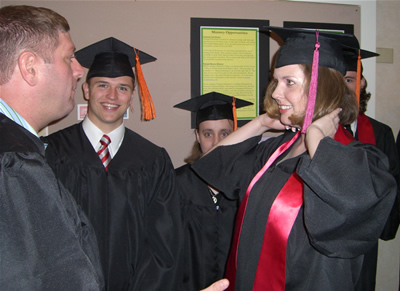 The graduating class included eight Ph.D.s, 47 MS degrees, and 65 BS degrees, expanding the department's alumni base to approximately 5,200.
In what we hope becomes a new tradition for the department, our Ph.D. recipients were joined on stage by their academic advisors for a special hooding ceremony. Including the Fall 2006 class,
the department graduated a record 18 Ph.D.s for the 2006-07 academic year,
ranking us among the leaders in the nation in computer science Ph.D. production.
The strength of the economy and job market for computer science graduates was evident as the vast majority of our undergraduates walked off the stage with both a diploma and employment plans firmly in-hand.
The class recognized seven students (
Sina Bahram, Samuel Ruben Munilla, Benjamin Charles Newlin, Melih Onvural, Tristan Ravitch, Benjamin Hatfield Smith, & John Cosgrove Stille
) as members of the Computer Science Honors Program, one (
Benjamin Hatfield Smith
) as a member of the Society of Collegiate Scholars, and three (
Lauren Janece Hayward, Mark Soren Mzyk, & Charles Brantley West III
) as University Scholars.
Antonius Wiguna
was recognized as the lone Valedictorian with a perfect 4.0 GPA.
Dr. Mladen Vouk
, department head, congratulated the graduates on their accomplishments. He also thanked all those in the venue who had contributed to their success including faculty, staff and parents.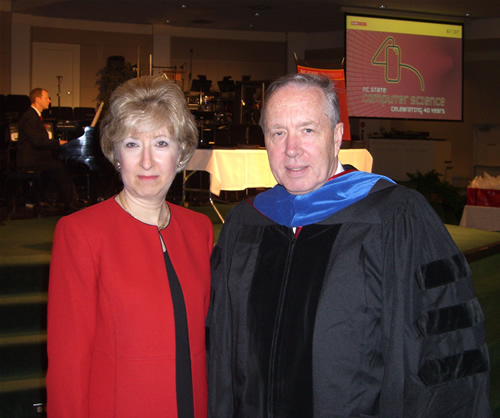 Sue Horn
, Vice President of the IBM Software Group, served as guest speaker for the event. In a spirited address, Horn reminded the graduates of the distinctly different perspective that each generation views the world from. She said, "We had a B&W television with maybe 7 channels and a phone that was attached to the wall. The world definitely wasn't flat." By contrast, she said, "you have 600 channels, cell phones, and wireless Internet." She joked, "When your generation thinks of the Internet, many of you think it has always been there." Horn spoke of the explosive degree of change that each generation has experienced over the last 100 years, and she shared several life lessons with the graduates. She told them to be adaptable and open to change, to have an awareness of the life views of the people around them, and to be flexible while never compromising their principles. She challenged the graduates, saying "Set long term goals and don't merely live for the moment, recognize the world is changing and learn how to adapt, be honest with yourself and leverage your strengths, don't underestimate the power of networking, and above all - be fulfilled in your life".
Providence Baptist Church proved to be an outstanding new venue for the department's diploma ceremony, providing ample free parking, comfortable accommodations, and professional AV capabilities allowing for live broadcast of the ceremony from multiple cameras angles.
DVDs of the ceremony are available for a nominal processing fee. Contact
Ken Tate
for more information.

Special entertainment was provided by pianist,
Brent Hubbell
.
Special thanks to
IBM
for sponsoring this very special event.
Return To News Homepage