CSC News
April 23, 2007
Department Dedicates Donald Martin Computer Science Teaching Lab
- the first space named for an individual within the computer science wing of EB II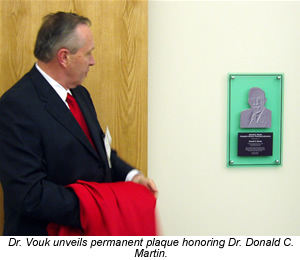 On Friday, April 13th, the NC State Department of Computer Science officially dedicated EBII Room 2336 as the
Donald Martin Computer Science Teaching Lab
, in memory of former department head,
Dr. Donald C. Martin
.
This is the first space named for an individual within the computer science wing of EB II.
During the dedication ceremony, current department head,
Dr. Mladen Vouk
spoke of Dr. Martin's legacy and contributions to the department, and then unveiled the permanent plaque honoring Martin inside the room.
Special guests in attendance included Martin's widow,
Mrs. Doris Martin
, members of the
Strategic Advisory Board
, student
John Stille
, the first recipient of the Donald & Doris Martin Scholarship Award, alumnus,
Jim Faulkner
, whose generous support allowed for an early launch of the scholarship award, and
Joyce Hatch
, recent retiree and former Director of Advising for the department. Many other faculty and staff were in attendance, many of whom shared reflections and humorous stories about their memories of Dr. Martin.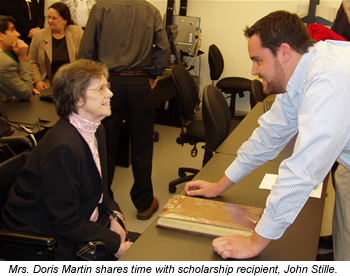 A reception in the
Progress Energy Conference Room
followed the dedication and unveiling activities.
It was a very memorable and touching tribute to a man who meant so much to our department.
Martin served as Department Head for the department of computer science from 1974 until 1986, providing critical leadership during the formative years of the department. While not the first department head, he is widely regarded as the "father of NC State Computer Science", as he was instrumental for laying the foundations of the department we know today.
Upon his death, Mrs. Martin established two scholarship endowments honoring her late husband, the
Donald C. and Doris J. Martin Scholarship in Computer Science
and the
Donald C. Martin Scholarship in Chemical Engineering
.
Photos by Ken Tate
~jeffers~
Return To News Homepage