CSC News
March 19, 2007
Zheng Wins ACM Student Research Competition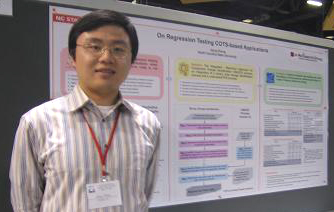 Congratulations to Jiang Zheng, a computer science doctoral student and research assistant at NC State University, who took first place in the "graduate category" of the ACM Student Research Competition, held on March 8-10, 2007 at SIGCSE 2007 in Covington, Kentucky.
He is now eligible to participate in the Grand Finals of the ACM Student Research Competition.
His research on Regression Testing COTS-based Applications focuses on reducing the regression testing required for COTS-based applications when components change and source code is not available. A process with supporting tools for regression test selection for COTS-based applications was evolved. The process is an integration of a static binary code change identification process and a code-based RTS process. The results of industrial case studies indicate this process can reduce the required number of regression tests by as much as 100% in some cases.
The ACM Student Research Competition is internationally recognized venue for undergraduate and graduate students to:
Share research

Exchange ideas and gain new insights

Meet and talk with academic and industry luminaries

Understand the possible practical applications of their research

Perfect their communication skills

Receive rewards and recognition
Zheng is advised by Dr. Laurie Williams, associate professor of computer science. His research is supported by a research grant from ABB Corporate Research.
Return To News Homepage