CSC News
February 14, 2007
Gehringer's Expertiza Platform Takes Honorable Mention in Gertrude Cox Awards
The Expertiza Platform
, developed by Dr.

Edward Gehringer

, associate professor of computer science, received Honorable Mention recognition in the area of tool development during the 2007 Gertrude Cox Awards reception held at the Talley Student Center on January 25th.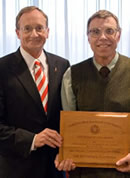 Gehringer is shown at right receiving the award from

Provost Larry Nielsen.
The Gertrude Cox Award for Innovative Excellence in Teaching and Learning with Technology was established to honor the creative pedagogy of NC State's faculty and technical staff and their work in integrating new technologies into effective teaching strategies. The award was endowed in the fall of 2002 and named for "The First Lady of Statistics," Gertrude Cox, who came to NC State in 1940 to establish the university's distinguished Department of Statistics.
The Expertiza Platform is a program that allows instructors to take full advantage of peer-to-peer student abilities and efforts as enhancements of the instructional process. It is a system, including software, for managing student evaluations of one another's work. Through this system, a student benefits not only from comments from the instructor, but also from comments by other students in the class. Each student also has the chance to review the work of others and thereby become better able to discriminate between different qualities of work. This process clearly improves critical thinking.
Gehringer is the first faculty member from the department of computer science to be recognized by this prestigious award.
For more information about the Gertrude Cox Awards, visit their web site.
Return To News Homepage