CSC News
December 11, 2006
Computer Game Development Showcase to be Held on December 18th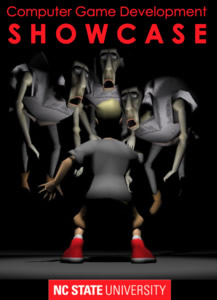 The NC State Department of Computer Science is proud to announce that the Computer Game Development Showcase, the semester-ending presentation of student projects in computer game development, will be held on Monday, December 18 from 8:30 AM to 11:30 AM in the Atrium of Engineering Building II on NC State's Centennial Campus.
Projects to be featured during the showcase are the result of semester-long collaborative efforts of students in Computer Science's course on Computer Game Design and Development. Each team will present a completed 3D game with custom artwork, 3D models, game play, character AI and interface design developed by the team members.
The event will begin promptly at 8:30 AM. All games will be accessible at PCs set up in the atrium, providing attendees the opportunity to play the games and talk with the developers to learn more about the art and science that went into their construction. The event is free and open to the public.
The games showcased in this year's event include:
The Dryad Game
: Play as the spirit of the forest (Dryad) in this innovative game. Nourish and beautify your forest while listening to soothing music to relieve stress or protect it against natural calamities and destructive humans by fighting with the powers given to you by the trees.
eRacer
: Get ready to feel the adrenaline as you and a partner take on other racers in this cooperative multiplayer racing game. Lap your opponents to victory on the race tracks or destroy them in a one-on-one vehicle combat map.
Dodgeball
: Play your favorite schoolyard game in a futuristic setting.
TAF-Team Action Figure
: Play as your favorite action figure and team up with other toys to meet objectives in rich (and HUGE) indoor environments. (All action figures and environments are made to scale)
Of Corpse
: Work with your team mates to pass through dark zombie infested environments in this zombie busting game featuring heavily cooperative game play.
If you have any questions, feel free to contact Arnav Jhala.
Return To News Homepage