CSC News
October 25, 2006
Cisco Announces Inaugural Recipients of NCIGS Awards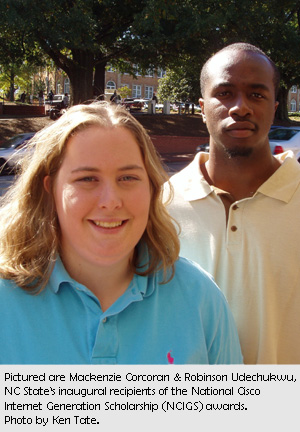 Congratulations to incoming computer science freshmen Mackenzie Corcoran and Robinson Udechukwu, who have been selected by Cisco Systems as NC State's inaugural recipients of the National Cisco Internet Generation Scholarship (NCIGS) awards.
Each scholarship is valued at $5,000/year and is renewable for four years of undergraduate study, as long as the student maintains enrollment in computer science and maintains a minimum 3.0 GPA.
The program also includes internships and Cisco Engineering Education opportunities.
NC State is just one of five universities nationally selected by Cisco to participate in this prestigious scholarship program
. The other schools participating in the program include the University of Texas, University of Michigan, Georgia Tech, and the University of California, Berkeley.
Through the NCIGS program, Cisco is attempting to increase the attraction and retention rates of underrepresented students (minorities and/or females) in the field of computer science.
Cisco's NCIGS program coordinator, David Jaffe, adds that the program is also an attempt to align their strategic recruitment efforts with their research interests. "In addition to the internships," Jaffe says, "we would ultimately love to see these students have an opportunity to work directly with local faculty on research efforts we are supporting."
Since these renewable scholarships will be awarded to two incoming freshmen each fall, in just four years, as many as eight computer science students could be benefiting from the awards each year.
Jaffe, whose office is on the west coast, plans to make regular visits to campus to dialogue and interface with the students. He adds that he and local mentors at Cisco "really want to get to know these kids very well over the course of their academic career." As the program matures, he expects a community of award winners will emerge nurturing strong relationships and friendships which will last a lifetime.
Udechukwu, a native of Charlotte, NC, developed an interest in networks and computer science while in high school. He claims the NCIGS scholarship played a key role in his decision to come to NC State. "I was looking at several options including a program at UNC-Chapel Hill," said Udechukwu. "But ultimately, the Cisco scholarship provided the tipping point for me to come here and study computer science." He has obtained his A+ and Network+ certifications, and is excited about future internship opportunities at Cisco.
Cocoran, a native of Cary, NC, knew early on that she wanted to come to NC State to study computer science, but the NCIGS scholarship has been a huge help to her and her family. Since arriving on campus in August, she has taken a very active role in the Women in Computer Science (WiCS) program, and she has volunteered to help with departmental events such as serving as a student representative at Open House. She is also excited about the intern opportunities provided by Cisco, as she really values "hands-on" experience.
As the inaugural winners of the NCIGS scholarships, both students are extremely honored to have been selected and they look forward to the opportunity to mentor future winners.
Return To News Homepage