CSC News
October 23, 2006
Peaslee Selected as "Pride of the Wolfpack" Winner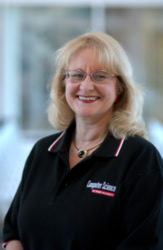 Congratulations to Susan Peaslee,
accounting clerk for the department of Computer Science, who has been recognized as a "Pride of the Wolfpack" award winners in the College of Engineering.
Peaslee was recognized for her "above and beyond the call of duty" efforts in processing approximately 50 travel reimbursements for grant-related events in addition to her regular workload. These reimbursements were complicated because those being reimbursed often were not familiar with university accounting rules.
Also recognized by the College of Engineering as "Pride of the Wolfpack" award winners for July and August were Fran Coates, Sandra Dugan, and Martha Brinson.
To read the full news release posted by the NC State College of Engineering news, visit link.
Return To News Homepage