CSC News
October 13, 2006
WiCS Welcomes CSC Female Grad Students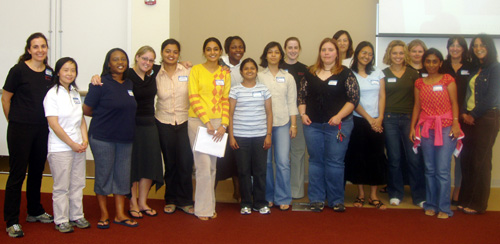 The
Women in Computer Science
(WiCS) student organization hosted a welcome reception for new female graduate students in computer science on Friday, September 29.
The reception, sponsored by Super ePartner Network Appliance (NetApp), was held in the Progress Energy Executive Conference Room in EBII's 3rd floor bridge.
The networking and information session had a true international flare, as attendees were treated to Middle Eastern food and American soft drinks. After introductions, the women were given a chance to find out the little know facts about each other by playing People Bingo. The winners of the contest were given prizes, and every attendee received a T-shirt.
Jennifer Early, an Escalations Engineer representing NetApp, says she enjoys attending events like this, meeting students and "helping them see how what they are doing now can help them in a future at NetApp".
About WiCS
WiCS
' mission is to "support, promote and retain women in computer science by providing opportunities for personal and professional development, social interaction, and outreach". They have planned a panel discussion for undergraduates, as well as luncheons to serve as a support group for women in computer science.
About NetApp
NetApp is a leading full-line provider of unified enterprise storage solutions that deliver simplified data management, flexible and scalable storage infrastructure, comprehensive data protection, and reliable data access. They do this through hardware, software and services. Its Research Triangle Park location was voted the number one place to work in the Triangle by the Triangle Business Journal in September 2006. NetApp is also a founding member of the department's ePartners Program.
Return To News Homepage