CSC News
July 26, 2006
Antón Selected to Participate in Frontiers of Engineering Symposium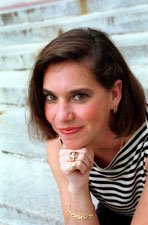 Dr. Annie Antón
, associate professor of computer science, is among 80 of the nation's brightest and gifted young engineers selected to participate in the 12th annual U.S. Frontiers of Engineering Symposium by the National Academy of Engineering (NAE).
Also selected from NC State to participate in this event was Dr. Christine S. Grant, professor of chemical engineering.
The 2½-day event will bring together engineers ages 30 to 45 who are performing cutting-edge engineering research and technical work in a variety of disciplines. The participants — from industry, academia, and government — were nominated by fellow engineers or organizations and chosen from nearly 200 applicants.
Antón is known as a leading authority on Internet technology and privacy issues. She is founder and director of ThePrivacyPlace.org, a research group of students and faculty at NC State and Georgia Tech, and co-founder and co-director of the NC State Electronic Commerce Studio. She has received many awards for her work, including a National Science Foundation Career Award, a Women of Influence Award from CSO magazine, a Computing Research Association Digital Government Fellow and DARPA Defense Science Study Group selection. She received her Ph.D. in computer science from Georgia Tech in 1997 and joined the NC State faculty in 1998, becoming the first Latin-American woman faculty member in the College of Engineering.
The symposium will be held Sept. 21-23 at the Ford Research and Innovation Center in Dearborn, Mich. Topics covered will include nanotechnology-biology interface, intelligent software systems and machines, supply chain management and personal mobility.
Return To News Homepage