CSC News
June 29, 2006
Alumni Throw Retirement Party for Joyce Hatch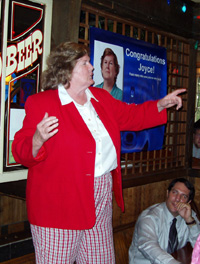 On June 8
th
, approximately 100 alumni, friends and family gathered at historic Mitch's Tavern on Hillsborough Street in Raleigh to wish
Joyce Hatch
a fond farewell in advance of her retirement at the end of June.
The retirement celebration was conceived, organized, and hosted by alumnus Earl Hines (BS '91), who flew in from his home in Oregon to throw the event. Against a backdrop of posters bearing Hatch's picture and memorable quotes, Hines kicked off the event with a Champaign toast and a moving story of the impact Joyce Hatch had on his life.
For almost two hours, the litany of praises continued. One-after-another, alumni took the spotlight to offer a variety of stories and favorite moments about Joyce Hatch. They talked about how she "bent the rules" to do what was right, how she and her husband opened up their homes to those who had no place to live, how she helped so many stay in school, graduate and find jobs.
From the many counseling sessions that spilled over to Mitch's Tavern, to the adventures of the "steam tunnels", the memories came together like a patchwork quilt to form a story of a great woman whose compassion, caring, and nurturing qualities have deeply and positively shaped the lives of thousands of students.
Fittingly, a small plaque recognizing Joyce Hatch and her accomplishments was unveiled during the celebration, and it will be installed on one of the seats in Mitch's Tavern in her honor.
Many in attendance made pledges and gifts to the new Joyce Hatch Scholarship Endowment. To date, over 50 individuals have made pledges totaling over $36,000 and outright contributions in excess of $16,000 to the endowment. The endowment has officially been launched and the first scholarship awards are expected to be given out in the fall of 2007. (gift form)
In his closing tribute, Hines commented on how appropriate it is that this endowment will allow Joyce Hatch to keep on helping students of future generations. "She's one in a 100 million!" Hines adds, "and I am the man I am today because of her."
During this special evening, there were many tears, hugs and much laughter shared. Just as she has touched so many over her 30 years at NC State, so did this celebration of her career.
Return To News Homepage