CSC News
May 17, 2006
123 Receive Degrees in Spring Diploma Ceremony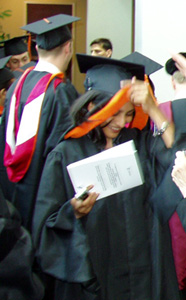 On May 13, 2006, approximately 1,000 relatives and guests watched in pride as 123 degrees were conferred by the department during our Spring Diploma Ceremony held in the beautiful Meymandi Concert Hall in downtown Raleigh.
The graduating class included seven PhDs, 42 MS degrees, and 74 BS degrees, expanding the department's alumni base to approximately 4,900.
Of the 74 undergraduates, 15 will pursue their graduate degrees, while 38 have firm job offers in hand – a very strong indication of a strengthening economy and job market for computer science graduates.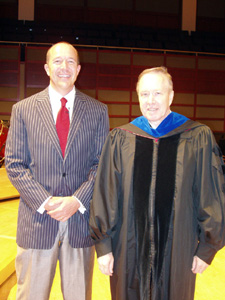 The class recognized one student as a member of the Computer Science Honors Program, four as members of the Society of Collegiate Scholars, eight as University Honors, and eight as University Scholars. With 10 Valedictorians having perfect 4.0 GPAs, the department of computer science accounted for almost 10% of NC State's total valedictorians.
Dr. Mladen Vouk
, newly appointed department head, congratulated the graduates on their accomplishments. As we approach the department's 40th year, he recognized the many outstanding achievements of this class, calling it one of the best in the department's history. He gave special recognition to four department icons who have announced their retirements this year: Joyce Hatch, and Drs. Ed Davis, Robert Funderlic, and David McAllister.
Mr. Matthew Szulik
, Chairman, CEO and President of Red Hat, served as guest speaker for the event. In an energetic and inspiring address, Szulik congratulated the graduates on winning the "genetic lottery", reminding them of how very lucky they were to be born in a time and place which has provided them this tremendous educational opportunity. Armed with this education, he challenged the graduates, saying "Don't just find a job or chase the almighty dollar…it's not worth it." Rather, Szulik encouraged the graduates to think of the world differently, to use their gifts to make a real difference. "You have the opportunity to change the face of education, to enhance the lives of others by improving healthcare, education, and the environment", he said. He challenged the graduates to "think big" and "improve society". "In the end," he concluded, "your worth will not be determined by the size of your house on Topsail Island."
Special entertainment was provided by pianist, Brent Hubbell.
Special thanks to Tekelec for sponsoring this very special event.
Return To News Homepage