CSC News
April 04, 2006
Red Hat's Szulik to Speak at Spring 2006 Diploma Ceremony.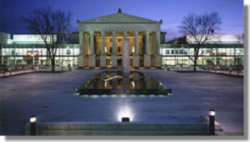 Our spring diploma ceremony will be held on Saturday, May 13th at 1:30 pm in beautiful Meymandi Concert Hall at the Progress Energy Center for Performing Arts in downtown Raleigh (directions).
Matthew Szulik, CEO & President of Red Hat, will provide the keynote address. Szulik is passionate about improving the educational opportunities for students worldwide through open source. He currently serves as the Chairman of the Science and Technology Board for State of North Carolina 's Economic Development Board, and he was recently recognized by CIO Magazine with its 20/20 Vision Award and was named one of the 50 Most Powerful People in Networking by Network World Magazine.
Special thanks to Super ePartner, Tekelec, for their sponsorship of this very special event.
Approximately 120 graduates are expected to receive their degrees during the ceremony.
For the convenience of our guests who might require overnight accommodations, we suggest the Sheraton Raleigh located at 421 S. Salisbury Street adjacent to the Civic Center . For reservations, call the hotel at 919-834-9900 and ask for the $89 NCSU rate.
Return To News Homepage