CSC News
March 21, 2006
Beers Wins Inaugural Charles W. Kelly / ISSA Scholarship
William "Will" Beers,
a senior double majoring in Computer Science and Mathematics, has been awarded the inaugural
Charles W.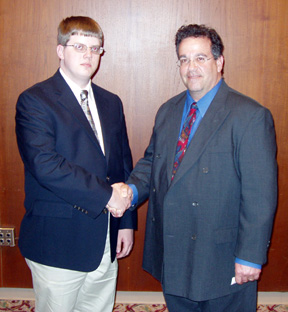 Kelly / Raleigh ISSA Scholarship.
He is shown in the picture along with Charles "Chip" Kelly (right) at the annual College of Engineering Endowment Dinner, which was held at the McKimmon Center on March 16, 2006.
The scholarship endowment, launched this year by the local chapter of the Information Systems Security Association, will be awarded annually to a qualified junior or senior with a demonstrated interest in working in the field of computer security
Beers received a strong recommendation for the award, valued at $1,000, from CSC 405 security course instructor, Sammie Carter.
According to Carter, Beers served as team leader for his security project in CSC402 last semester, showing tremendous interest in the field of Networking and Security. Beers found numerous security vulnerabilities in the university system and developed several tools to enhance the current security with the department. Carter also worked with Beers on the "Capture The Flag Security" contest, an international security competition.
Because of his interest in the field, Beers now works (as an undergraduate) with Carter on developing, maintaining, and administrating the computer and network security in the Computer Science department. He is also working with Carter to develop new security policies and procedures for handling security related issues, and on helping actively monitor the network for hacker attacks and develop preventative measures for these activities.
Congratulations to an outstanding and deserving student!
Return To News Homepage