CSC News
February 06, 2006
ePartners Career Connection Event a Huge Success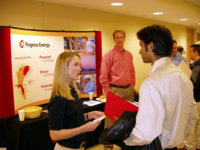 On February 1st, the department of computer science hosted its 5th annual ePartners Career Connection event, a recruiting and networking event provided exclusively for CSC students and ePartner companies.
Eight corporate partners participated in the event including SAS Institute, Cisco Systems, EMC, Progress Energy, Network Appliance, Tekelec, RedPrairie, and the NC Office of the State Auditor.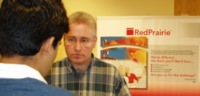 This popular event, traditionally held during the fall semester, was delayed to the spring in order that it could be held in EB2, the new home of the department of computer science located on Centennial Campus. The new facility proved to be an outstanding host for the event, as several long-time recruiters voiced their appreciation of the spacious new accommodations of EB2 as compared to the tight quarters they shared in Withers Hall.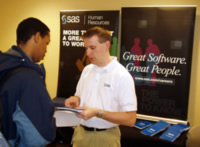 Student participation was strong, with as many as 250 to 300 students dropping by to speak with recruiters during the event.
Return To News Homepage