CSC News
October 07, 2005
Team Qualifies for DARPA Grand Challenge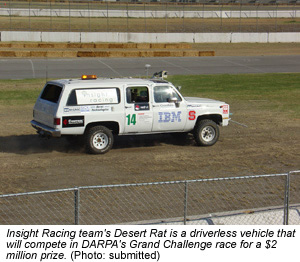 On the morning of Saturday, October 8th, in what may seem like a scene from a science fiction movie, a driverless 1987 Chevy Suburban, nicknamed "The Desert Rat," and 22 other driverless vehicles will begin making their way across the Mohave Desert on a grueling 150-mile race. The technology that guides the Suburban across the desert is the product of a partnership between North Carolina State University and Insight Technologies Inc. and may one day revolutionize not only the way the military performs missions but also the way that commuters drive to work each day.
Sponsored by the Defense Advanced Research Projects Agency (DARPA), the Grand Challenge competition was created to answer a congressional mandate to convert one-third of the military vehicles to driverless, computer-driven mode by 2015. The objective of the competition is to have teams design a completely autonomous vehicle that can traverse rugged terrain while avoiding obstacles with no human assistance. The technology developed for the race will help DARPA reach its goal of having the autonomous vehicles perform missions that currently put military personnel in harm's way.
Insight Racing team is a cooperative venture between NC State University and Insight Technologies Inc., a company formed in 2003 to develop autonomous robotics solutions. The company and the team include NC State University students and alumni.
"While the technology is being developed for defense purposes, it has potential for spinoff into everyday life, from mowing grass to driving down the interstate," says Dr. Robert Fornaro, professor of computer science and director of the Senior Design Center. "Some of the software technology used on the vehicle was initially designed and prototyped by NC State computer science students in the Senior Design Program."
The race across the desert is the culmination of an elimination process that began earlier this year. The Insight Racing team is one of 23 finalists. An original field of 195 original applicants nationwide was reduced to 43 semifinalists, who competed in the National Qualification Event (NQE), an intense eight-day competition held September 28 through October 5, for a chance to compete for the $2 million prize on Saturday, October 8, on a course near Primm, Nev.
"We have a highly talented dynamic team that is composed of students from NC State University, members of the Triangle technical community and retired business executives," says Grayson Randall, Insight Racing founder. "The development of robotics technology will allow us to accomplish both human relief and military missions that pose a threat to our country's personnel. We are thrilled to compete in this innovative race, which is moving autonomous driving ahead so rapidly."
Other teams in the competition are Axion Racing (Westlake Village, Calif.), Team Cajunbot (Lafayette, La.), Team CalTech (Pasadena, Calif.), CIMAR (Gainesville, Fla.), Team Cornell (Ithaca, N.Y.), Team DAD (Morgan Hill, Calif.), Desert Buckeyes (Ohio State University, Columbus), Team ENSCO (Springfield, Va.), the Golem Group/UCLA (Los Angeles), the Gray Team (Metairie, La.), Intelligent Vehicle Safety Systems I (Littleton, Colo.), Mitre Meteorites (McLean, Va.), MonsterMoto (Cedar Park, Tex.), Mojavaton (Grand Junction, Colo.), Princeton University (Princeton, N.J.), Red Team (Carnegie-Mellon University, Pittsburgh), Red Team Too (Carnegie-Mellon), SciAutonics/Auburn Engineering, (Thousand Oaks, Calif.), Stanford Racing Team (Palo Alto, Calif.), Team Terra Max (Oshkosh, Wis.), Virginia Tech Team Rocky and Virginia Tech Grand Challenge Team (Blacksburg, Va.).
"What is so special about the Insight Racing team is that they are competing with teams that have spent literally millions of dollars on developing technology for the competition while Insight Racing operates on a shoestring budget," says Fornaro. "It is a 'David versus Goliath' competition for our team."
— weston —
Media contacts:
Jennifer Weston, (919) 349-9764, weston@ncsu.edu
Walt Sliva, (919) 931-1118, wjsliva@ncsu.edu
Dr. Robert Fornaro, (919) 515-7848, fornaro@unity.ncsu.edu
Return To News Homepage