CSC News
August 29, 2005
SDC Team's International Win Celebrated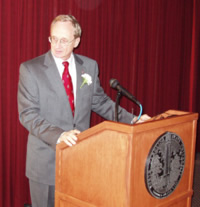 About 70 students, faculty, staff, relatives, friends, university administrators, and community leaders joined the NEAT Senior Design Center Team on August 25th to celebrate their historic win in the IEEE Computer Society International Design Competition (CSIDC) 2005 World Finals.
NC State Provost, Dr. Larry Nielsen, was on hand to deliver words of praise for the multidisciplinary Senior Design Center project team members David Coblentz (CSC), Dakota Hawkins (CSC), Jonathan Lewis (CSC), and Ben Noffsinger (Fisheries & Wildlife Sciences), who took home the $20,000 grand prize. Dr. Nielsen, pictured at right, told the audience "We at NC State are so proud of this team's accomplishment. They weren't just #1 in the state, or #1 in the nation…they were #1 in the world!"
In fact, the multidisciplinary team from NC State is the first United States team to take first place in the 6 year history of this prestigious competition.
During the reception, the team gave an encore presentation of their award-winning pitch to the CSIDC judges in Washington, DC in June.
The Networks for Endangered Animal Tracking project (a.k.a. NEAT), combines GPS technology with wireless sensor networks to track animal movements in the wild. Their mentors for this project were Dr. Robert Fornaro and Ms. Margaret Heil (director & associate director of the Computer Science Senior Design Center) and Dr. Richard Lancia (Fisheries & Wildlife Sciences).
Congratulations to all!
Related News Stories:
CSC Project Team Takes 1st Place Prize in CSIDC 2005 Competition! (June 29, 2005)
NC State Computer Science Design Team will participate in the Sixth Annual IEEE Computer Society International Design Competition (CSIDC) (May 24, 2005)
Return To News Homepage