CSC News
June 29, 2005
CSC Project Team Takes 1st Place Prize in CSIDC 2005 Competition!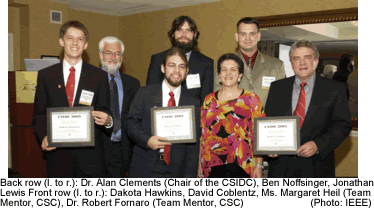 Congratulations to multidisciplinary Senior Design Center project team members David Coblentz (CSC), Dakota Hawkins (CSC), Jonathan Lewis (CSC), and Ben Noffsinger (Fisheries & Wildlife Sciences), for taking the $20,000 top prize in the IEEE Computer Society International Design Competition (CSIDC) 2005 World Finals held in Washington, DC on June 25-28. In the 6 years of the CSIDC, this is the first United States team to win first place at this prestigious competition.
Their project, entitled NEAT: Networks for Endangered Animal Tracking, combines GPS technology with wireless sensor networks to track animal movements in the wild. Their mentors for this project were Dr. Robert Fornaro and Ms. Margaret Heil (director & associate director of the Computer Science Senior Design Center) and Dr. Richard Lancia (Fisheries & Wildlife Sciences).
The theme of this year's competition was Going Beyond the Boundaries. Over 400 teams competed from universities around the world. The top ten teams were selected based on a written final report submitted to the competition at the end of April. Once at the World Finals, teams were required to demonstrate their product, tradeshow style, and to deliver a formal presentation to a panel of 10 international judges.
This is the second time in the past 3 years that one of our Senior Design Center project teams competing in the CSIDC has been selected as one of the top ten in the world. In the CSIDC 2003 World Finals, the senior design team who created Diet Download placed third.
Congratulations to the NEAT team and to their mentors. Special thanks to the following:
Integrated Industrial Information, Inc. (I-Cubed), CSC ePartner
Dr. Hugh Devine, NCSU Parks, Recreation & Tourism Management
Ms. Charlene Lassiter, CSC
Mr. Mark MacAllister, NC Zoological Society
Mr. William Millinor, NCSU Parks, Recreation & Tourism Management
Mr. William Slocumb, NCSU Center for Earth Observation
Mr. John Stone, CSC Senior Design Center
Mr. Ben Tilley, CSC Senior Design Center
Return To News Homepage