CSC News
May 17, 2005
201 Receive Degrees in Spring Diploma Ceremony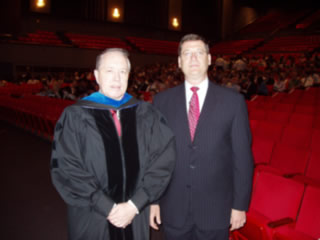 On May 14, 2005, approximately 1,500 relatives and guests watched in pride as over 200 degrees were conferred by the department during our Spring Diploma Ceremony held at Memorial Auditorium in downtown Raleigh. The graduating class included 6 PhDs, 48 MS degrees, and 147 BS degrees, making it one of our largest graduating classes in the department�s 38 year history. This class recognized 7 students as members of the Computer Science Honors Program, 13 as members of the Society of Collegiate Scholars, 9 as University Honors, 24 as University Scholars, and 13 Valedictorians with perfect 4.0 GPAs.
This graduating class brings our departmental alumni base to approximately 4,700.
Dr. Mladen Vouk, interim department head, congratulated the graduates on their accomplishments and thanked them for the opportunity to be a part of their life journey.
Mr. Bill Weiss (BS 1976), founder, Chairman, and CEO of The Promar Group, served as guest speaker for the event. He encouraged the graduates not to predict the future, but to design it. As reference points, he cautioned the graduates that the future doesn�t change as fast as they might think, nor does it change everything. He challenged the graduates to develop a passion and commitment for their profession, and to invest in life-long relationships. These, he said, are essential elements of professional success and personal happiness.
Special entertainment was provided by the Capital Brass of the North Carolina Symphony.
Special thanks to Red Hat and Tekelec for sponsoring this very special event.
See Photo Gallery
Return To News Homepage