CSC News
June 28, 2023
Brown Family Makes Transformational Gift
Computer Science alumnus and Hall of Fame inductee, Tony McLean Brown and the Brown Family recently made a $1M pledge to the department to create a named distinguished professorship, a named graduate fellowship and a named undergraduate scholarship. The transformational gift pledge announcement was made as part of NC State's 5th annual 'Day of Giving', helping the Department of Computer Science (CSC) set an all-time single day giving record with total gifts and pledges exceeding $3.8M!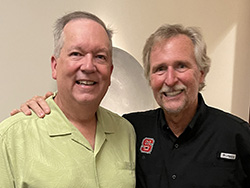 Not only is this one of the largest gifts in department history, it is also quite unique in that Brown specifically directed that the donation was being made in the honor of Ken Tate, Director of Engagement & External Relations, with whom he has worked closely with for more than two decades in supporting various needs across the department and the University.
When fully funded, the transformational gift will help create:
Brown Family Distinguished Professorship in Computer Science

– once $667,000 is given, matching state funds in the amount of $334,000 will be sought from the Distinguished Professors Endowment Trust Fund to create a $1M Distinguished Professorship endowment.

Brown Family Graduate Fellowship Enhancement for Computer Science

- $227,000 will be dedicated to the creation of this endowment which will provide funds to be used to supplement stipends for newly admitted graduate students in the Department of Computer Science to strengthen recruiting efforts.

Ken Tate Scholarship for Student Success in Computer Science

- $60,000 will be appropriated to create a scholarship in Ken Tate's honor and annual funds will be used to provide merit- and need-based scholarships for CSC undergraduates with a preference toward students participating in the Computer Science Ambassadors program.
Tony McLean Brown is a Principal Partner and Director of Strategic Investments at Public Consulting Group, Inc. (PCG). For almost four decades, he has helped build the technology solutions for PCG's Healthcare, Human Services, and Education Practice Areas.
But Brown's legacy goes far beyond his professional accomplishments. His adventures include running with the bulls in Spain, as well as the Boston Marathon, Africa's Comrades Ultra-marathon, and the Leadville Trail 100. Credentialed as a professional boxer, professional bull rider, jet pilot, and NASCAR late model stock car driver, Brown authored "A Happy Guide to a Short Life: A Response to Ms. Quindlen's Fine Book. 2007" At his core, he is fully aware that he has been blessed, and he focuses on leveraging his passion to advance multiple volunteer and philanthropic efforts to help people and make a positive difference in the world.
In 2022, Brown was inducted into the NC State Computer Science Alumni Hall of Fame. His HOF induction bio can be viewed here.
"Ken and I have known each other for a long time, and our relationship is very special to me," says Brown. "He has been a fantastic ambassador for the Computer Science Department and has an incredible capacity to bring people together to do good for NC State students. Our family wanted to do something to honor all he has done for the Computer Science department and the University before he retires. Ken is one of the finest individuals that I've met at NC State…and that goes all the way back to 1978!"
When asked about the donation made in his honor, Ken Tate said he was humbled beyond words. "I've been blessed to be in this role for more than 22 years now, and even more blessed to be in a position to help incredible people like Tony use their passion and resources to help other people." When Tony told him of his plans, Tate said the news brought tears to his eyes. "Those of us who work in service roles like this do it for the love of the job, and the opportunity to make a difference in someone's life. Over the years, I've received some very nice 'thank you' notes, accolades and hugs, but I have to admit that this show of appreciation really tops the cake!"
Dr. Gregg Rothermel, Computer Science Department Head, highlighted the transformational nature of a gift like this in the department's quest to move from great to exceptional. "We are so thankful to the Brown Family for their support, as this is really a 'Triple Crown' high-impact gift!" says Rothermel. "Distinguished named professorships are essential to our efforts to attract and retain the very best talent, the graduate fellowship will help so many grad students who are feeling the pain of the high cost of living in Raleigh, and the scholarship to honor Ken Tate is simply a heartwarming and fitting tribute to a man who has meant so much to the success of our department."
The initial installment of $250,000 arrived in June, allowing for the launch of both the scholarship and graduate fellowship endowments, and includes cash funds so that awards can be made to students starting in the 2023-24 academic year.
~###~
Return To News Homepage