CSC News
May 18, 2023
Jerin Smith Receives the CoE Senior Award for Humanities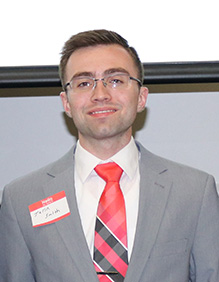 Congratulations to Jerin Smith, a Spring 2023 graduate of the NC State Computer Science Department, on winning the 2022-23 College of Engineering Senior Award for Humanities.
Smith is an exceptional student who double-majored in computer science and Japanese. He is passionate about both engineering and the humanities — and able to understand the human aspects of the Grand Challenges for Engineering that society is facing.
A Benjamin Franklin Scholar, Smith has taken a full range of language courses and has demonstrated a superior ability at cultural analysis and expression. His studies in Japanese have not only included studying the language, but writing on and studying cultural phenomena.
Smith was also involved with NC State's Jazz Program. He has taken classes ranging from Digital Audio Workstations to Music Composition, and has performed with four ensembles on tenor saxophone, guitar and flute since 2019. His dedication, exemplary leadership and musical growth has been an inspiration to those around him, and he handles the pressure of performing in the premier jazz ensemble with grace and professionalism. This past December, Smith traveled to Chicago with the Jazz Orchestra for a performance at one of the largest and most prestigious music education conventions in the world.
During his time at NC State, Smith was also a member of the Air Force ROTC program and was the region III director of operations of the Arnold Air Society.
Smith is one of four seniors in the College of Engineering received 2023 Outstanding Senior Awards for their exceptional contributions to NC State and beyond in Citizenship and Service, Humanities, Leadership and Scholarly Achievement.
Seniors are nominated by their respective academic departments in the College of Engineering, and winners are chosen by a selection committee made up of faculty and staff members in the College. Departmental nominees were honored during a ceremony held at the James B. Hunt Jr. Library on NC State's Centennial Campus where the four COE winners were also announced.
Please see this related story for details on all of the college's award winners.
~coates~
Return To News Homepage