CSC News
May 11, 2023
Lester Named Goodnight Distinguished University Professor
Brent Lancaster | College of Engineering News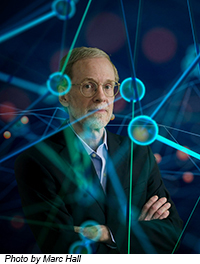 James Lester, professor in the Department of Computer Science at North Carolina State University, has been named as the inaugural Goodnight Distinguished University Professor in Artificial Intelligence and Machine Learning.
Lester has spent his career leading efforts to transform the field of education using artificial intelligence and leads two NC State centers dedicated to this work. He is the founding director of NC State's Center for Educational Informatics. In 2021, the National Science Foundation (NSF) built on those efforts by awarding Lester and a team of faculty members from NC State and other partner institutions a five-year, $20 million grant that established the NSF AI Institute for Engaged Learning.
"I'm deeply honored and grateful to be named the Goodnight Distinguished University Professor in Artificial Intelligence and Machine Learning," said Lester. "The endowed professorship the Goodnights have created will enable us to expand our research program in AI and education and to innovate in AI-driven learning at a national scale."
Lester conducts research on AI-driven learning technologies such as intelligent narrative-centered learning environments and embodied conversational agents for education, and he leads teams to develop and disseminate them. Much of this work centers on AI-driven educational software for K-12 STEM education, but applications for these technologies are wide-ranging and include AI-driven training technologies for military personnel, first responders and others.
He has been recognized with an NSF CAREER Award, the NC State Alumni Association Outstanding Research Award, the NC State Outstanding Teacher Award and the Alexander Quarles Holladay Medal for Excellence, the highest honor awarded to faculty members by the University's Board of Trustees. His research is supported by NSF, the US Department of Education's Institute of Education Sciences, the National Institutes of Health and the Army Futures Command. He is a Fellow of the Association for the Advancement of Artificial Intelligence (AAAI).
Lester received his B.A. in history from Baylor University and his B.A. (Highest Honors, Phi Beta Kappa), M.S.C.S., and Ph.D. in computer science from the University of Texas at Austin.
"This is a tremendous honor for James. He is truly a pioneer in this field and this professorship recognizes that and will help him expand on his work," said Louis Martin-Vega, dean of the College of Engineering. "We are grateful to the Goodnights for their investment in these efforts to improve both how we teach and how we learn."
The professorship was made possible by a gift from NC State alumni Dr. James and Mrs. Ann Goodnight. The Goodnights support more than 250 North Carolina students each year through the Goodnight Scholarships program, which they established in 2008 and expanded in 2017 to include transfer students from the state's community colleges. The Goodnights also have generously strengthened centers, programs and additional scholarship opportunities across NC State. Their commitment to faculty excellence has resulted in the creation of 28 named faculty positions, including a deanship, as well as a program to invest in early-career faculty and support for additional endowed professorship funds. In 2022, the Goodnights increased their support to include graduate students, creating the Goodnight Doctoral Fellows for Ph.D. candidates in STEM and education. Dr. Goodnight – the CEO and founder of SAS – earned his B.S. in applied mathematics in 1965, his M.S. and doctorate in statistics in 1968 and 1972, respectively, and the University conferred an honorary degree to him in 2002. Mrs. Goodnight earned her B.A. in political science in 1968 and works as the senior director of community relations at SAS.
~###~
Return To News Homepage