CSC News
May 10, 2023
NC State Part of $20M AI Institute Focusing on Climate-smart Agriculture and Forestry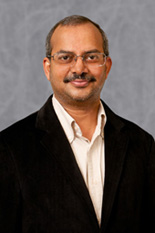 NC State University is one of six universities nationwide to become part of a five-year $20M grant from the National Science Foundation (NSF) and the U.S. Department of Agriculture's (USDA) National Institute of Food and Agriculture (NIFA) to lead a new National Artificial Intelligence Research Institute. NC State's portion of the grant is $500,000, and lead researcher on the project is Computer Science professor Dr. Raju Ranga Vatsavai.
Led by the University of Minnesota Twin Cities, researchers at the AI Institute for Climate-Land Interactions, Mitigation, Adaptation, Tradeoffs and Economy (AI-CLIMATE) aim to leverage artificial intelligence (AI) to create more climate-smart practices that will absorb and store carbon while simultaneously boosting the economy in the agriculture and forestry industries.
Using new AI techniques like deep learning and knowledge-guided machine learning, researchers at the AI-CLIMATE institute are improving accuracy and lowering the cost of accounting for carbon and greenhouse gases in farms and forests, ultimately making the process more accessible for more people. The Institute will also expand and diversify rural and urban AI workforces.
The goals of AI-CLIMATE directly intersect with what other federal programs are doing to further develop climate-smart agriculture. In 2022, the United States Department of Agriculture announced that it would be investing $3.1 billion to support farmers, ranchers, and private forest landowners through its Partnerships for Climate-Smart Commodities project.
AI-CLIMATE is a collaborative effort bringing together scientists and engineers from across the country, including national experts on artificial intelligence and climate-smart ag and forestry from the University of Minnesota Twin Cities, Cornell University, Colorado State University, Delaware State University, Purdue University, and North Carolina State University. In addition, the researchers will collaborate with the American Indian Higher Education Consortium (AIHEC) and the tribal nations it represents.
The new institute is one of seven new NSF- and NIFA- funded AI Institutes announced recently and is part of a larger federal initiative—totaling nearly half a billion dollars—to bolster collaborative artificial intelligence research across the country. To read more about the new AI Institutes, click here.
~coates~
Return To News Homepage