CSC News
May 09, 2023
Celebrating the Spring 2023 CSC Graduates!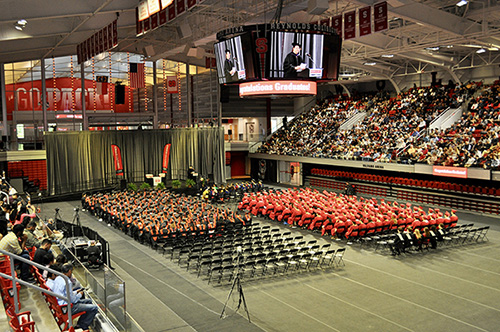 Hundreds of friends and family members gathered on May 4th in the James T. Valvano Arena inside NC State's Reynolds Coliseum to celebrate the Spring 2023 computer science graduates. This year's graduating class of nearly 400 students included 9 Ph.D., 198 M.S., and 188 B.S. degree recipients.
The undergraduate class included one Park Scholar: Anagha Jandhyala; five Benjamin Franklin Scholars: Jonathan Michael Buck, Alon Meir Greyber, Hans Khatri, Aidan McCarthy, and Jerin Austin Smith; and one CyberCorps® Scholarship for Service Program participant: Pepper Wingerd-Felan.
The class also included thirteen Computer Science Honors Program participants: Jacob Beasley, Alexander James Boots, Manasa Sai Chinta, Guorui Hai, Minsung Kim, Keagan Celeste Lindsey, Benjamin Scott Lewis, Paul Edward MacNichol, Shruti Marota, Niall Patrick Moncrief Mullane, Tristan Chance Mullins, Rohan S. Rao, and Mingyu Sun; three University Honors Program participants: Geoffrey Fylak, Harini Mahesh, and Henry Edward Pinyan; five University Scholars Program participants: Jose Angel Garcia-Gomez, Elizabeth Grace Madren, Maya Patel, Rohan S. Rao, and Mingyu Sun; and numerous members of a variety of scholastic honor societies.
The Computer Science Outstanding Seniors for Spring 2023 are Kevin Childs (Senior Award for Citizenship and Service), Jerin Austin Smith (Senior Award for Humanities), Elliott Breck Schultz (Senior Award for Scholarly Achievement), and Mingyu Sun (Senior Award for Leadership). The Computer Science Department's Faculty Senior Scholar was Claire Davis.
Computer science alumnus and Strategic Advisory Board member Jerry Tillman (BS CSC 2003) provided the keynote address. Tillman is the Vice President of IBM Cloud Platform Services.
In his remarks, Tillman remembered when he graduated with a degree in computer science 20 years ago with a lot fewer fellow graduates. Instead of diving into his background and career and how that shaped his accomplishments, he chose to share a few things that he wished someone had told him at his graduation:
"You are so much more than what our degree says you are." He shared that when he graduated and entered the workforce, he felt that his computer science degree meant that he could only do computer science things, like coding. He realized quickly that he was limiting himself. He added that the education he received at NC State afforded him the versatility and flexibility to learn and grow as much as he wanted in the field of his choosing. He encouraged the graduates to go try things outside of their field. He said, "Explore that new idea. Keep learning and growing, after all, it's your life, so go live it"

Tillman's talked turned a little more philosophical as he chose to speak on the infinite mindset versus the finite mindset: "Another thing I wish I knew coming out was the mindset shift from academia engineering to real world engineering. Ever since you all started school, things have been very finite… In finite games, like football or chess, the players are known, the rules are fixed, and the endpoint is clear. There are winners and there are losers and they're easily identified. Academia is also an example for that. In infinite games, like business, politics or life itself, the players aren't necessarily fixed. They come and go in your life depending on the circumstances, the rules are changeable, and there's no defined endpoint. I liken it to kids playing make-believe where the rules are fluid and they change as they go and there's really no endpoint. They play until they go in the house. For the majority of your school experience up until this point, you went to class, you studied, you made your grades, and they you progressed to the next stage. That's what led you here. For a lot of you, the criteria of your success was defined by your teachers or your professors. For most of you, the large part of that era will end today. Whatever world you enter into, corporate, entrepreneurial, or otherwise, will no longer have the same fixed rules that you've had since grade school. This will require a shift in mindset. There is no longer a set finish line to progress to the next grade. Sure, there will be milestones and breakthroughs, but ultimately, it will be an infinite race based on the rules you set, and not your professors. The criteria of success will vary person to person, and this could be very scary and difficult to adjust to, but I would encourage you to see the beauty in it. Use the tools that you've gathered in your time here at NC State to create."

Next, he encouraged the graduates to "go live". He said that it sounds simple enough, but admitted that he took things so seriously when he graduated that he forgot to enjoy life while living it. He told them to build a community using NC State as their foundation. "There will be those people – those co-founders, co-workers, friends, neighbors – that will be some of the same ones there when you hit your next set of milestones in your life, whether that's marriage, that promotion, children, and otherwise. The human experience may evolve, but it will still be just as prevalent as it was during your time here at State."

His last bit of advice was to remind the graduates to remember their core values. "What got you to this point will be the foundation of what gets you to the next milestone. What got you here, will get you there… When I look out into this audience, I see promise, I see hope. I also see some confusion and uncertainty as well, and that's okay. I see me. NC State, and more specifically, this Computer Science Program, has afforded you the tools and the keys to do with it and be whatever it is that you want to be. Be the change you want to see. If nothing changes, then nothing changes. So now it's time for you to live up to the motto. You've been spending your time – hours in labs and everywhere else doing a ton of thinking, and being rewarded for that thinking with how you think. Now it's time to go do!"
The ceremony can be in its entirety here. Our special thanks go to the Computer Science Department ePartners Program, its participating corporate sponsors, and the NC State Engineering Foundation for their generous sponsorship of this ceremony.
Congratulations to all of our Spring 2023 Computer Science graduates!
~coates~
Return To News Homepage