CSC News
April 28, 2023
Rothermel Reappointed as Head of Department of Computer Science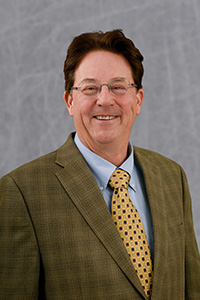 Dr. Gregg Rothermel has been reappointed as the head of NC State's Department of Computer Science (CSC), effective July 1, 2023, for a second five-year term.
With over 2,500 students currently studying computer science, over $19M in new research awards and over $13M in annual research expenditures, CSC is regarded by many as the preeminent computer science program in the state of North Carolina. Rothermel's excellent leadership, dedication and integrity since 2018 have played a significant role in advancing the department's well-established academic and research excellence.
A recent assessment of the department leadership concluded that as department head, Rothermel has demonstrated tremendous success in shaping CSC's academic and research programs according to his strategic vision. He has led numerous initiatives to cultivate a successful department, including recruitment and outreach efforts, education research, and efforts to enhance diversity, equity and inclusion.
During his initial five -year term as department head, Rothermel has led the department through a period of significant growth and evolution, all while navigating the impact of a global pandemic. Under an improved, shared set of standards for faculty productivity and a transparent process for communicating expectations and evaluations of their accomplishments, faculty reached record levels in research publications, research awards and research expenditures. Alumni donations and endowment growth also reached record levels. With significant corporate support, the department launched a major Cybersecurity Initiative, as well as new undergraduate concentrations in Cybersecurity and Artificial Intelligence. Student enrollment and faculty growth have accelerated thanks to a major investment in STEM, engineering and computer science by the NC General Assembly. In fact, the department hired a record 14 new faculty last year and will hire at least 10 more this year. Under Rothermel's direction, the department is well positioned to flourish in the future as the preeminent computer science program in the state and beyond.
Rothermel, who is considered one of the top software engineering researchers in the world, is an IEEE Fellow and ACM Distinguished Scientist.
Before joining NC State, he was a professor and Jensen Chair of Software Engineering at the University of Nebraska-Lincoln, where he co-founded the ESQuaReD (Empirically-Based Software Quality Research and Development) Laboratory.
Rothermel co-founded the EUSES (End-Users Shaping Effective Software) Consortium, a group — funded in part by the National Science Foundation — who have led end-user software engineering research.
Additionally, Rothermel co-founded and leads the development of Software-Artifact Infrastructure Repository (SIR), which is an infrastructure created to support controlled experimentation with program analysis and software testing techniques. SIR has been utilized by more than 700 institutions supporting more than 800 scientific publications around the world.
Rothermel's research interests include software engineering and program analysis with an emphasis on end-user software engineering, empirical studies, and the application of program analysis techniques to problems in software maintenance and testing. His research has been supported by NSF, DARPA, AFOSR, Boeing Commercial Airplane Group, Microsoft and Lockheed Martin.
Dr. Louis Martin-Vega, Dean of Engineering at NC State, said Rothermel enjoys strong support from CSC faculty, students and staff.
"I appreciate his commitment and dedication to the progress and success of the CSC department for the last five years and look forward to his continued leadership of the department going forward," Martin-Vega said.
~vespa~
Return To News Homepage