CSC News
April 12, 2023
Senior Design Center's Posters & Pies Planned for April 26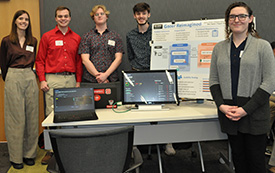 The public is cordially invited to the NC State Department of Computer Science Senior Design Center's "Posters & Pies" event on Wednesday, April 26th, from 5:00-7:00 p.m. in NC State's McKimmon Center.
Each of our Spring 2023 Senior Design teams will proudly show off project demonstrations and poster displays. Light refreshments will be served.
The event is sponsored by Prometheus Group, as well as the Computer Science ePartners Program and the NC State Engineering Foundation.
For directions to the McKimmon Center, please go to: https://mckimmoncenter.ncsu.edu/directions/. Parking is free and plentiful.
This semester, the sponsors and projects are as follows:
Bandwidth:

Challenge Hero

Blue Cross Blue Shield of NC:

Member Document Library

Cisco:

AWS Change Management

Diveplane Corporation:

R Language Client for Diveplane Reactor Platform

EcoPRT:

Multi-Vehicle Network Controller & Mobile App

Epic Games:

Unreal Editor Utilities Games Showcase

FreeFlow Networks:

Pinball Wizard

IBM+NCSU Forest Biomaterials:

TrashTrack

Katabasis 1:

Diffractive - AI-Generated Art

Katabasis 2:

Metahuman NLP

Katabasis 3:

Money Makin' Mateys

King:

Learning Outcomes Report

Laboratory for Analytic Sciences 1:

Data Prioritization Manager

Laboratory for Analytic Sciences 2:

TL;DR - An Interface System for Tailored Daily Reports

LexisNexis 1:

Business Development Pipeline Visualization

LexisNexis 2:

RefactorFORGE

Live Oak Bank:

API Entitlements - Extending Authorization

Mann+Hummel:

SprintTrack

Merck 1:

Counterfeit Drug Detection

Merck 2:

OSINTelligence

NC Parks and Recreation:

Inventory Management Application

NCSU CIIGAR Lab:

Self-Service Computer Vision Portal for Animal Behavior & Welfare - Phase 2

NCSU College of Natural Resources:

ROOTS - Research Operations Organizational Tracking System

NCSU Computer Science:

MyDigitalHand v2.0

NCSU Computer Science IT:

Faculty Student Award Nomination

NCSU Computer Science Undergraduate Curriculum Committee:

Syllabus Creation & Feedback System

NCSU CVM+CSC Departments:

Poultry Bloodwork Reporting Tool - Phase 3

NCSU How We Evaluate Lab:

Automated Intelligent Feedback for Students

NetApp:

FreeBSD Rust Kernel Module

PositiveHire:

PHBalanced

SAS:

FairLens - Early Bias Detection

Siemens Healthineers:

Field Engineer Feedback

Stallmann:

Galant - Graph Algorithm Animation Tool

STEM+Computing Education Group @ NCSU:

SnapClass

Strategic Interaction Video:

Online Video Learning Platform

The Diversity Movement:

Microlearning for DEI

Truist:

Cybersecurity Product API Integrations

Wake Technical Community College:

AR Protein Dynamics
Please join us! The media is welcome to this event. If you plan to attend, please register online at http://go.ncsu.edu/csc-posters-pies by Friday, April 21st, so that we may properly plan for refreshments.
Senior Design Center Teaching Team, Spring 2023:
Ms. Margaret Scaturro Heil, Director, (919)515-6020, heil@ncsu.edu
Dr. Ignacio Domínguez, Assistant Director & Technical Advisor, ixdoming@ncsu.edu
Dr. Jason King, Technical Advisor, jtking@ncsu.edu
Dr. Lina Battestilli, Technical Advisor, lbattestilli@ncsu.edu
Dr. David Sturgill, Technical Advisor, dbsturgi@ncsu.edu
Dr. Alexander Card, Technical Advisor, acard@ncsu.edu
Dr. Kenya Odour, Communications Assistant, kfreema@ncsu.edu
Dr. Aimee Allard, Communications Assistant, aallard@ncsu.edu
Dr. Colin Potts, Technology Support, cmpotts@ncsu.edu
Sonali Chaudhari, Teaching Assistant
Prathik Velagapudi, Teaching Assistant
Henry Pinyan, Teaching Assistant
Saksham Pandey, Teaching Assistant
Angela Zhang, Teaching Assistant
Media & Corporate Partnership contact:
Ken Tate, (919) 513-4292, kmtate2@ncsu.edu
~coates~
Return To News Homepage