CSC News
March 15, 2023
Computer Science Spring Diploma Ceremony Set for May 4th
Please join us as we recognize and celebrate our graduates during the NC State Computer Science Department's Spring Diploma Ceremony on Thursday, May 4th at 12:00 noon. The ceremony will be held in William Neal Reynolds Coliseum on the campus of NC State University, located at 2411 Dunn Avenue, Raleigh (directions).
Approximately 250 graduates are expected to receive their degrees during the ceremony. Our special thanks go to the NC State Engineering Foundation and the ePartners Program for their generous sponsorship of this event.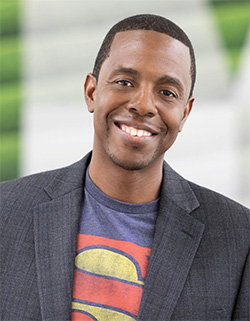 Jerry Tillman (BS CSC 2003), Vice President of IBM Cloud Platform Services, will deliver the keynote address. Tillman is an experienced Global Services leader with a demonstrated history of working in the Information Technology and Services industry. He has developed several skills throughout his career, most notably in Cloud, Development, Storage, Customer Relationship Management (CRM), DevOps, Site Reliability Engineering, and Software-as-a-Service (SaaS).

As Vice President of IBM's Cloud Platform, Tillman is the head of Engineering for the Platform-as-a-Service (PaaS) portfolio. He leads a global team responsible for the revenue generating service offerings on the platform. His responsibilities include the business strategy, development, delivery and service availability of the PaaS offerings across Dev & Data Services worldwide.

In addition to his current responsibilities, Tillman also sits on IBM's Site Reliability Profession Global Governance Board. "SRE@IBM" is a cross business unit endeavor to jointly define job roles, certification requirements, create learning plans and training material for the SRE methodology. The collaborative goal is to share best practices as well as the experiences of practicing Site Reliability Engineering across multiple areas ranging from Cloud and Cognitive Software, Services to Global Technical Sales.

A proud Wolfpack Alumnus, Tillman earned his bachelor's degree in Computer Science with a minor in Mathematics from NC State University in 2003. In his spare time, he's run several half and full marathons when he's not spending time with his family.
NOTE TO GRADUATES: For the benefit of relatives and friends who may not be able to attend the event in person, the event will be available online via live video streaming at http://go.ncsu.edu/csc-diploma. Firefox, Internet Explorer and Safari are recommended for viewing the live streaming of the ceremony. To verify that your computer meets the minimum requirements for smooth streaming, please visit this site: http://www.sonicfoundry.com/site-requirements.
Parking is available in the Coliseum Parking Deck located at 201 Jeter Drive. For the convenience of guests who might require overnight accommodations, there are a number of hotels located in the immediate area. For more information, click here.
There are several ways to commemorate this special occasion. As each graduate is handed his/her scroll, a professional photographer will take his/her picture. A free color proof will be sent to each graduate's current mailing address, including a password for online viewing. There is no obligation to purchase prints. To receive email notification when photos are online, please visit www.photospecialties.com to pre-register. If a proof is not received within a week of the ceremony, please contact info@photospecialties.com or call 1-800-722-7033.
~coates~
Return To News Homepage