CSC News
March 01, 2023
JupiterOne Founder Erkang Zheng is Final Spring Labcorp Speaker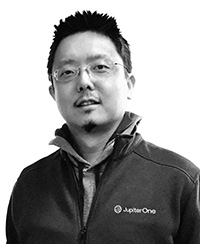 Please join us on March 21st at 6:30 p.m. in room 1231 in Engineering Building 2 for the final installment of the Spring 2023 Labcorp "Leadership in Technology" Speakers Series.
Erkang Zheng, Founder and CEO at JupiterOne, will be the featured speaker. The topic of his talk is From Security Practitioner to CEO: Building a $1B Security Company.
Prior to JupiterOne, Zheng was CISO of LifeOmic and Head of Software Security at Fidelity Investments Personal Investing. He has also held several security practitioner roles at IBM's Security Services division. Zheng earned Bachelor's and Master's degrees in computer science from North Carolina State University. He holds five patents, multiple industry certifications and is a regular speaker at major security conferences including RSA, BSides, and more.
Abstract: Not Marketing. Not Sales. Nobody knows the needs of practitioners more than the practitioners themselves. When the tools and technology on the market don't meet all of their needs, that's not a problem — that's a business opportunity. Erkang Zheng found himself in a similar place as Chief Information Security Officer at a health tech company. He saw the need for a cyber asset management platform that could serve as the foundation for his company's security practice, and seeing that there was nothing on the market to meet his needs, he decided to build it. Fast forward a few years, and he is now the CEO and founder of JupiterOne, a North Carolina-based cybersecurity startup.

In this talk, Zheng will share his experience building a security company that is now valued at $1B, discuss some of the problems that organizations and individuals face in cybersecurity today, and give insights on what entrepreneurs should keep in mind when transitioning from practitioners to business owners.
The event is free and open to the public. Ample free parking is available on Centennial Campus after 5 pm. For directions and more information, click here.
These lectures have been approved by the CSC Graduate Oversight Committee to count toward the required lectures for graduate students.
***If you are unable or uncomfortable joining us in person, the talk will be broadcasted live at https://go.ncsu.edu/labcorpspeakerseries. As always, talks will be videotaped and made available (pending speaker approval) on a dedicated YouTube channel.***
~coates~
Return To News Homepage