CSC News
January 23, 2023
Whitehornes Establish Entrepreneurship Scholarship in Computer Science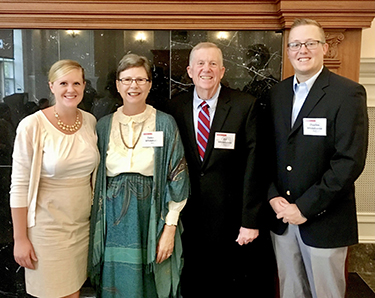 The Department of Computer Science (CSC) is proud to announce that CSC alumni Ed and Deborah Whitehorne have made lead gifts totaling over $75,000 to establish the Whitehorne Family Entrepreneurship Scholarship in Computer Science, along with a pledge to grow the endowment to $250,000, which will provide a 'full-ride' tuition scholarship for an 'in state' undergraduate student in the future. The couple has also donated $10,000 in cash, so that awards can be made to current students as the endowment matures.
This endowment will provide scholarships for students pursuing an undergraduate degree in Computer Science who are affiliated with the CSC Undergraduate Entrepreneurship Track. Preference will be given to students who have demonstrated a combined interest in entrepreneurship and the field of computer science and who are from the first generation in their family to attend college.
Ed and Deborah Whitehorne (shown here, flanked by the children Elizabeth and Charles) are proud of their deep connections to NC State. The couple met in the Department of Computer Science and graduated in 1972 as members of one of the University's earliest graduating classes in computer science. They married in June of 1972.
"Both of our kids went to NC State; My son Charles got his bachelor of mechanical engineering in 2004, and my daughter Elizabeth got her degree in business management in 2007," Ed Whitehorne said. "We have 12 immediate family members who have graduated from NC State, so I would say we are pretty much an NC State family and have been since 1968."
After graduation, Deborah worked as a computer programmer in Duke University Hospital's Obstetrics and Neurology departments and at the Research Triangle Institute. She retired in 1986 to run the family's Trakehner horse farm and have quality time with their children.
In 1973, Ed earned his master's degree in computer science at Duke University. He returned to NC State to pursue a Ph.D. in operations research.
Between 1979 and the early 1990s, Ed worked for what is now known as FHI 360, where he co-founded Clinical Research International, the first full-service multinational contract research organization (CRO). He later joined the boards of FHI 360 and the FHI Foundation, and he served as the vice chairman and chief of mergers and acquisitions at Novella Clinical. He led Novella's sale in 2013 and retired as chair of FHI 360 in 2018.
In acknowledgement of Ed's work with technology start-ups, he was recognized as an NC State Computer Science Alumni Achiever in 2002. In 2017, Ed was inducted into the inaugural class of NC State's Computer Science Alumni Hall of Fame.
The Whitehornes feel that much of their success is due to their education at NC State. Ed said he considers himself a serial entrepreneur, and he hopes to equip future computer science students to pursue entrepreneurship as well.
"I think the thing that I learned at NC State Computer Science was how to think," Ed Whitehorne said. "I think that has served me well. Most of what I've done has been in drug development, and I was able to get involved in that because I was able to understand the data and the programming side of what was necessary to run clinical trials. I got that in my undergraduate program at NC State."
With a long-range plan to grow the endowment to a level that will provide a full-ride scholarship award annually, the Whitehornes plan to provide supplemental support each year to allow partial scholarships to be awarded as the endowment grows.
The couple looks forward to making a difference for future computer science students.
"We're doing what we can with what we have, and we hope that this will encourage others that have graduated within the last 50 years in the Department of Computer Science to think about doing something similar," Ed Whitehorne said.
To learn more about how you can impact the department of Computer Science and create a legacy for you and your family, please contact Sara Seltzer, skseltze@ncsu.edu or 919.515.3730.
~vespa~
Return To News Homepage