CSC News
November 30, 2022
Senior Design Center's Posters & Pies Planned for December 7th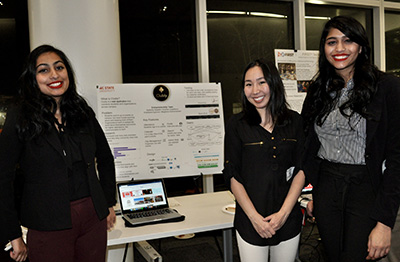 Please join us for the NC State Department of Computer Science Senior Design Center "Poster Day" event on Wednesday, December 7th from 10:30 a.m.-1:00 p.m. Each student team will give a brief presentation of their Senior Design project in the James B. Hunt Jr. Library Auditorium. After the presentations, pizza and dessert pies will be served, and you can enjoy project demonstrations and poster displays in the Hunt Library IEI Duke Energy Hall.
The event is sponsored by Amazon, as well as the Computer Science ePartners Program and the NC State Engineering Foundation.
For directions to the Hunt Library and parking information, please go to: http://www.lib.ncsu.edu/parking
This semester, the sponsors and projects are as follows:
CIIGAR Lab

: Computer Vision Pipeline Portal

NC Parks & Recreation 1

: File Xplorer

NCSU CSC Senior Design Center

: Senior Design Calendar

NCSU CVM + CSC Departments

: Poultry Bloodwork Reporting

Katabasis 1

: Game Logger

NC Parks & Recreation 2

: Visitation Application

Katabasis 2

: Money Makin' Mateys

Wake Technical Community College

: AR Protein Dynamics

NCSU CCEE GeoQuake Lab

: Ascending Together Through E²SCALA's Web Platform

IBM

: AI Waste Classification System

PositiveHire

: PH Balanced - Charting Diversity

Salesforce

: Dynamic Schemas in GraphQL

SAS 1

: Optimal EV Charger Placement

Bandwidth

: HERMES - Composing AWS Services ... Visually!

Cisco

: CyberQuery

Game2Learn Lab

: SnapClass - Adapting Snap! to a Physical Environment

NetApp

: Emulating Real-World Networks with SPADE

Pack Motorsports Formula SAE

: Real-Time Telemetry Dashboard

DBGT

: Document Discoverer

Laboratory for Analytic Sciences 1

: Infinitypool: More Labels = More Learning

Laboratory for Analytic Sciences 2

: Managing Big Data in AWS

LexisNexis

: Online Contact Capture

SAS 2

: Gozer Reimagined

Vontier

: Value of Data Analytics
If you plan to attend, please register online at http://go.ncsu.edu/csc-posters-pies by Thursday, December 1st, so that we may properly plan for refreshments.
For those who are not able or comfortable joining us in person, the presentation portion will be streamed live at go.ncsu.edu/pies.
Please come join us! The media is welcome to this event.
Senior Design Center Teaching Team, Fall 2022:
Ms. Margaret R. Heil, Director, (919) 515-6020, heil@ncsu.edu
Dr. Ignacio Domínguez, Assistant Director & Technical Advisor, ixdoming@ncsu.edu
Dr. Alexander Card, Technical Advisor, acard@ncsu.edu
Dr. Aimee Allard, Communications Assistant, aallard@ncsu.edu
Dr. Lina Battestilli, Technical Advisor, lbattestilli@ncsu.edu
Dr. David Sturgill, Technical Advisor, dbsturgi@ncsu.edu
Stephen Kubik, Teaching Assistant
Sonali Chaudhari, Teaching Assistant
Arpit Choudhary, Teaching Assistant
Saksham Pandey, Teaching Assistant
Media & Corporate Partnership contact:
Ken Tate, (919) 513-4292, kmtate2@ncsu.edu
~coates~
Return To News Homepage