CSC News
November 30, 2022
Fall Diploma Ceremony Set for December 16th
Please join us as we recognize and celebrate our graduates during the NC State Computer Science Department's Fall Diploma Ceremony on Friday, December 16th at 3:00 p.m. The ceremony will be held in William Neal Reynolds Coliseum on the campus of NC State University, located at 2411 Dunn Avenue, Raleigh (directions).
Approximately 225 graduates are expected to receive their degrees during the ceremony. Our special thanks go to the NC State Engineering Foundation and the ePartners Program for their generous sponsorship of this event.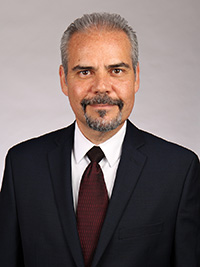 Lance Berberian, Executive Vice President and Chief Information and Technology Officer of Labcorp, will deliver the keynote address. Prior to joining Labcorp, he served as the chief information officer at IDEXX Laboratories, Inc., a global leader in diagnostics and IT solutions for animal health and food and water quality. Berberian also worked as chief information officer and president of Kellstrom Defense Aerospace Inc., a fully integrated supply chain firm, from 2000 to 2007. Prior to that, he was the chief information officer of Interim HealthCare Inc.

Berberian currently serves as chair of the strategic advisory board for North Carolina State University's Department of Computer Science. He is also an advisory board member for the University of North Carolina-Greensboro Master of Science in Informatics and Analytics, as well as the Carolina Health Informatics Program at the University of North Carolina-Chapel Hill. He also serves on the Board of Trustees for Elon University. Berberian holds a B.S. in both business administration and information technology from Thomas Edison State College.
NOTE TO GRADUATES: For the benefit of relatives and friends who may not be able to attend the event in person, the event will be available online via live video streaming at http://go.ncsu.edu/csc-diploma.
Parking is available in the Coliseum Parking Deck located at 201 Jeter Drive. For the convenience of guests who might require overnight accommodations, there are a number of hotels located in the immediate area. For more information, click here.
There are several ways to commemorate this special occasion. As each graduate is handed his/her scroll, a professional photographer will take his/her picture. A free color proof will be sent to each graduate's current mailing address, including a password for online viewing. There is no obligation to purchase prints. To receive email notification when photos are online, please visit www.photospecialties.com to pre-register. If a proof is not received within a week of the ceremony, please contact info@photospecialties.com or call 1-800-722-7033.
~coates~
Return To News Homepage