CSC News
November 08, 2022
Wyatt Honored as a Distinguished Engineering Alumnus
Brent Lancaster | College of Engineering News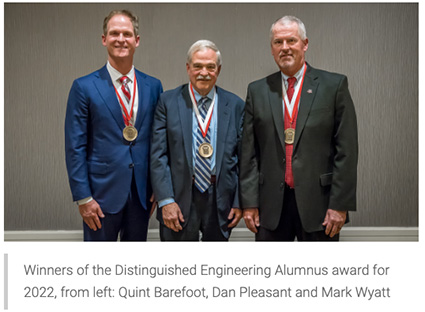 The College honored three winners of its Distinguished Engineering Alumnus (DEA) award during a dinner and ceremony on campus on Wednesday, Nov. 2, 2022, as part of Red and White Week.
The award was established by the faculty of the College in 1966 to honor engineering graduates who have been recognized for outstanding achievements in planning and direction of engineering work; fostering professional development of young engineers; contributing to knowledge in the field of engineering; or bringing, in other ways, distinction to the University through engineering achievement.
Nominations for this prestigious award come from members of the Engineering faculty, and a vote by faculty representatives determines the recipients of the award.
Quint M. Barefoot
Quint M. Barefoot received a B.S. in chemical engineering from North Carolina State University in 1985 and completed his MBA at the Fuqua School of Business at Duke University in 1996. His career is highlighted by leading successful entrepreneurial entities from the start-up phase to the ultimate sale and integration into publicly traded firms.
After completing engineering school, Barefoot joined Four Seasons Environmental, Inc. and proceeded to lead the company through a rapid growth phase from less than $1M in annual revenue to $42M employing over 280 personnel in six offices at the time the business was sold to Great Lakes Chemical Corporation. Thereafter, he continued as the president leading the firm as a division of a publicly traded company expanding to 16 offices with over 500 employees applying remediation technologies on environmental clean-up projects.
After Four Seasons, he was a founder of Monosep, LLC, started in 2001 as a firm providing water treatment systems to the energy sector. The company is now integrated into Siemens Water Technologies.
Thereafter, Barefoot started Zappa-Tec, LLC, a polymer converting business focusing on super absorbent polymer compounds used in telecommunication products, energy applications and medical devices. The business was acquired by a publicly traded company, Chase Corporation.
Barefoot is presently the CEO of Info-Gel, LLC, which produces thixotropic gels for the fiber optic industry.
Dan M. Pleasant
Dan M. Pleasant earned B.S. and M.S. degrees in civil engineering in 1973 and 1974, respectively, from North Carolina State University. Pleasant has spent more than 50 years in the consulting engineering profession.
Pleasant has held several key positions with Dewberry since managing the startup of an office in Danville, Va., including southeast division manager, and president of Dewberry Engineers Inc., a Dewberry Company of 1,800 employees. In 2010, Pleasant was named chief operating officer. During his tenure, he helped direct the company through significant market segment growth and expansion into multiple geographies. He also managed the acquisition of seven companies for Dewberry, including the 2021 acquisitions of two engineering firms in the Southeast and the 2019 acquisition of an engineering firm based in California.
In April 2022, Pleasant transitioned into a consulting role. He continues to guide critical initiatives for Dewberry, including championing its corporate acquisition program. He is also very active with Dewberry's clients, serving as an executive client manager for several strategic clients.
Pleasant has a long history of volunteer and board service. His NC State service includes being an advisory board member for the Department of Civil, Construction, and Environmental Engineering.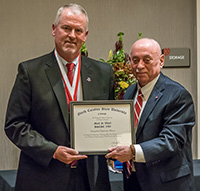 Mark D. Wyatt
Mark D. Wyatt received a B.S. degree in computer science from North Carolina State University in 1980. Wyatt retired from Duke Energy in 2013 with 34 years of senior management and utility experience. Prior to his retirement from Duke Energy, Wyatt served as vice president of grid modernization, where he was the lead executive for the company's grid modernization function, which was responsible for delivering enhanced operational efficiencies for the company's transmission and distribution system, as well as providing a platform for growing the company's revenue through leveraging grid modernization investments to provide value added products and services to the company's retail customer base.
Wyatt started with Duke in 1980 in the information management department. He moved to the distribution department several years later, where he was responsible for the deployment of common business processes and supporting technology that enhanced the effectiveness of engineering, construction and operations functions within the department. Following this assignment, he experienced a series of promotions within the company through assignments in the retail customer services, transmission, distribution, generation, unregulated business operations and information technology areas.
Wyatt has been a member of numerous boards throughout his career. His NC State board service includes the Computer Science Strategic Advisory Board and the NC State Engineering Foundation Board of Directors.
~lancaster~

Return To News Homepage