CSC News
October 17, 2022
Dr. Donald Bitzer Named a Computer History Museum 2022 Fellow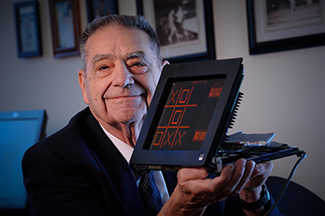 Dr. Donald Bitzer, Distinguished University Research Professor of Computer Science at NC State University, has been named a 2022 Fellow by the Computer History Museum (CHM) for his global influence and outstanding contributions in the field of computer science through pioneering online education and communities with PLATO and co-inventing the plasma display.
The CHM Fellow Awards Program recognizes remarkable innovators for their notable contributions to the advancement of computing. This prestigious program exhibits the groundbreaking achievements of each Fellow and denotes their historical significance.
Technology leaders, innovators, and visionaries from around the world gathered in Silicon Valley on Saturday, October 15th at a special ceremony to celebrate the remarkable contributions of Bitzer and his fellow honorees — Adele Goldberg, Dan Ingalls and Leonard Kleinrock.
Dr. Mladen Vouk, Distinguished Professor of Computer Science and Vice Chancellor for Research and Innovation at NC State, introduced Bitzer at the ceremony.
"Don's approachability, interest in discussing good ideas with everyone regardless of rank or age, his enjoyment in solving problems, and his leadership and vision in developing new products has been transformational for me, NC State's Computer Science Department, and the University in general," Vouk said. "Don, you are a true Renaissance man, as well as a research and education wizard."
Bitzer is known as the "father of PLATO," or Programmed Logic for Automated Teaching Operations, the first generalized computer-assisted instructional program. Created in the early 1960s, PLATO was a revolutionary invention — Bitzer programmed the first online courses using the PLATO system, and many contemporary features in multi-user computing were developed for PLATO, including online forums, message boards, email, blogging, and multiplayer games.
In 1964, Bitzer co-invented the flat-panel plasma display. Originally invented as an educational aid for the PLATO system, this influential innovation lay the foundation for flat-panel plasma screen televisions. In 2002, Bitzer received an Emmy Award from the National Academy of Television Arts and Sciences for his role in developing the plasma display.
Bitzer is a Fellow at the Institute of Electrical and Electronics Engineers and the National Academy of Inventors. He has been a member of the National Academy of Engineering since 1974, and in 2013, he was inducted into theNational Inventors Hall of Fame. In 2019, he received the Alexander Quarles Holladay Medal for Excellence, the highest honor bestowed by NC State and the University's Board of Trustees.
Bitzer received his B.S. (1955), M.S. (1956), and Ph.D. (1960) in electrical engineering from the University of Illinois at Urbana-Champaign. He joined the faculty of NC State in 1989.
To view Dr. Bitzer's CHM 2022 Fellow profile, visit https://computerhistory.org/profile/don-bitzer/.
To watch the special video prepared for the award ceremony, visit https://www.youtube.com/watch?v=cwein_SeeAQ. Dr. Bitzer's award presentation starts at the 25:50 mark.
~vespa~
Return To News Homepage