CSC News
May 09, 2022
Congratulations Spring 2022 CSC Graduates!
Congratulations to the almost 300 graduates who were honored during the NC State Computer Science Department's Spring 2022 Diploma Ceremony on May 5th.
The Spring 2022 undergraduate class included two Park Scholars: Natalie Anna Kraft and Ethan Gray Shumate; three Benjamin Franklin Scholars: Gavin Gerard Dacier, Akshat Dixit, and Andrew Bryan Sonnier; three CyberCorps® Scholarship for Service Program participants: Isabella Rose Adriano, Corbin Austin Jones, and Parker Lee Hart Killian.
The class also included eight Computer Science Honors Program participants: Wililam Boyles, Savan Doshi, Melody Griesen, Derek Nguyen, Ashrita Ramaswamy, Rohak Rastogi, Alexander Snezhko, and Emma Stone; nine University Honors Program participants: Michael Ross Barger, William Michael Boyles, Gavin Gerard Dacier, Benjamin Brian Floyd, Corbin Austin Jones, Evan lafontaine, Asrita Ramaswamy, Rohak Rastogi and Mason Thomas Stevens; five University Scholars: Natalie Anna Kraft, Matthew Keith Martin, Brooke Marie Raschke, Madilyn Marie Rhoney, and Manalie Navin Shirsekar; and numerous members of a variety of scholastic honor societies.
The Computer Science Outstanding Seniors for Spring 2022 are Ryan Catalfu (Senior Award for Citizenship and Service), Natalie Anna Kraft (Senior Award for Humanities), Sarah R. Martin and Ashrita Ramaswamy (Senior Award for Scholarly Achievement), and Parker Lee Hart Killian (Senior Award for Leadership). The Computer Science Department's Faculty Senior Scholar was Kasimir R. Schulz.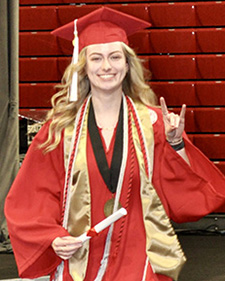 The CSC Diploma Ceremony featured student speaker was Brooke Marie Raschke, a computer science department student ambassador who will be returning to NC State this fall to pursue her Master's Degree in computer science. In her remarks she invited her fellow graduates to think back to when they introduced themselves as computer science majors. "At some point we allowed computer science to define who we are, and it's controlled much of our lives for the past few years, and taught us invaluable skills we will use throughout our professional careers. However, computer science is not our only personality trait. Each of us has a unique set of interests, capabilities and stories, and these are the things that make us who we are." She concluded her remarks saying, "be really proud to have a computer science degree, but know that it doesn't define who you are as a person. We can still 'Think and Do' whatever we want to achieve in the next phase of our lives."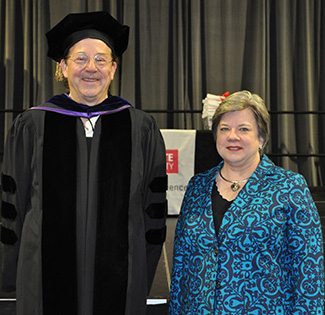 We were honored to have computer science alumna Beth Smith (BS CSC 1987) provide the keynote address. Smith, who was inducted into the NC State Computer Science Alumni Hall of Fame in 2020, is the General Manager of Worldwide Technical Sales and Customer Success at IBM Technology.
In her remarks, Smith told the crowd that computer science is not simply a field of study. "It has become fundamental to every business, every industry – not just tech – manufacturing, automotive, banking, healthcare, communications – you name it!
"The current pandemic has reminded us just how pervasive computer science is. Digital engagement has accelerated such that now online everything is just commonplace. At the same time, the semiconductor chip shortage has reminded us just how many industries depend on technology. Who would have expected that in 2022 you would have to wait months to get a dishwasher because of a computer chip shortage? So, technology really is a catalyst for both business and digital transformation."
She told the graduates, "You are here today because you are well aware of the opportunities in computer science. So, I want to focus on how you can leverage that deep expertise. A famous Henry Ford quote sums it up well, 'Whether you think you can, or you cannot, you are right.' Your attitude determines your success and your failure. Combine computer science with the right attitude, and there are no limits to what you can accomplish. In my experience, it comes down to three things: be willing to take chances, always look forward, and stay curious."
She concluded her remarks saying, "Many of you already have a map laid out for your career and your life. I want to challenge you to stay curious and open to change. I have faced many times when my intellectual curiosity served me well by just constantly asking questions and searching for answers. I've been able to keep my mind active and frankly, I've accomplished many things that I would never have expected…
"Future innovation for all industries is tech, and it is in your hands. So, remember: whether you think you can, or you think you cannot, you are right. Take chances, look forward, stay curious and go accomplish amazing things."
Our special thanks to the Computer Science Department ePartners Program, its participating corporate sponsors, and the NC State Engineering Foundation for their generous sponsorship of this ceremony.
Congratulations to all of our Spring 2022 Computer Science graduates!
~coates~
Return To News Homepage