CSC News
May 02, 2022
Price Named Department's 2021-22 'Person of Exceptional Performance'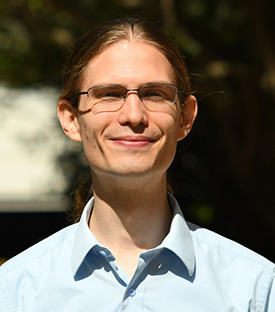 The NC State Department of Computer Science is pleased to present the 2021-22 "Person of Exceptional Performance" or PEP Award to Dr. Thomas Price, Assistant Professor of Computer Science.
The PEP Award, launched by the department in 2018, is intended to recognize faculty or staff who have exhibited truly outstanding performance, contributing significantly to the department's success as role models for what it means to 'think and do the extraordinary'. The recognition includes a custom acrylic plaque and a cash award. Price becomes the department's 5th winner of the PEP Award joining Dr. Lina Batestilli (2021), Leslie Rand-Pickett (2020), Dr. Sarah Heckman (2019) and Ken Tate (2018).
Price is a two-time graduate of the NC State University Department of Computer Science, earning his MS in 2015, and his PhD in 2018. He directs the Help through INTelligent Support (HINTS) Lab, which develops learning environments that automatically support students through AI and data-driven help features. His work has focused on the domain of computing education, where he has developed techniques for automatically generating programming hints and feedback for students in real-time by leveraging student data.
In addition to his teaching and research, Price has made two key contributions to the department over the last year. First, he organized and led the CSC Department Handbook Taskforce, which has put together a collection of resources for faculty and staff to explain departmental policies, requirements and best-practices. The Handbook's primary goal is to help new members of the department get up-to-speed more quickly, so they can focus on their research, teaching and administrative efforts. Second, he co-led the CSC Taskforce on Promoting Diversity and Inclusivity Discussions and Community. The taskforce has conducted a department-wide student survey, as well as listening sessions with students to better assess student needs. This led to the development of the CSC Diversity Equity and Inclusion Council - a group of students, faculty, and staff working to better support Black students, and students of color more broadly, within the department. The 2022 council has now been formed and is beginning its work, with new faculty and staff leadership.
At his core, Price believes that every student should be able to learn computing with the support they need to be successful. He was recognized for his efforts as an outstanding teacher and advisor by being named one of the winners of "The Carla Savage Award" for Spring 2022.
For his incredible efforts to lead by example, support our department's new faculty and staff, help students through outstanding mentorship and council, and foster change in the promotion of diversity and inclusion, the department proudly recognizes Dr. Thomas Price as our 2021-22 Person of Exceptional Performance Award winner.
~###~
Return To News Homepage