CSC News
April 06, 2022
NC State Alumni Couple Establishes Troan Scholarship for Computer Science Endowment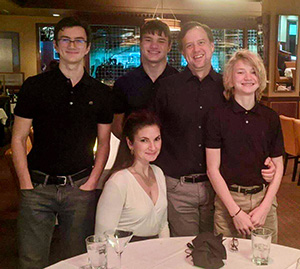 The Department of Computer Science is proud to announce that NC State alumni Erik and Brigid Troan have made a commitment of $250,000 to establish the Troan Scholarship for Computer Science Endowment. When fully funded, this will be one of the largest scholarship endowments ever created specifically for computer science (CSC) students.
The Troan endowment will provide scholarships to students who are pursuing a degree in computer science, with preference given to first-generation college students and to students who reside in counties designated as Tier 1 by the North Carolina Rural Economic Development Center. Tier 1 counties are the 40 most distressed counties in the state based on factors such as population growth, unemployment and household income.
"Brigid and I hope this gift helps people who grow up in isolated parts of our state," Erik said. "It's about providing equal opportunities for individuals across North Carolina to reach their full potential."
Ken Tate, director of Engagement and External Relations, says the Troans' gift is not only significant but transformative.
"Many people may not realize that, while we have more than 2,200 students in our department, we have just over 30 endowments providing scholarship support to them," Tate said. "The need that many students have for financial support is great. An endowment of this magnitude, one of the largest in the department's history, will help provide significant funds for Computer Science students — not just now, but in perpetuity."
Erik Troan graduated from NC State with a bachelor's degree in computer science and a bachelor's degree in computer engineering in 1995, followed by a master's degree in economics from the University of Virginia. Erik started his career at Red Hat as the company's first engineer, leading the engineering team through the development of Linux, RPm and Anaconda, as well as the company's IPO. He also led product marketing and assisted in the acquisition and integration of nine other companies during his time at Red Hat.
In 2005, Erik founded rPath, which was then sold to SAS in 2012. Erik is also the co-founder and chief technology officer of Pendo, a venture-backed software company located in downtown Raleigh, North Carolina.
Dr. Brigid Troan graduated from NC State's College of Veterinary Medicine (CVM) in 1999 and then completed her pathology residency at the CVM in 2001. Brigid has been the diagnostic pathologist at the North Carolina Zoological Park and an adjunct professor at the CVM since 2005.
Brigid is a reviewer for multiple academic journals, a Diplomate of the American College of Veterinary Pathologists specializing in zoo and wildlife species, and serves as a pathologist for the Exotic Species Cancer alliance. She is also a member of the Morehead Planetarium and Science Center Advisory Committee in Chapel Hill, North Carolina.
"This is about talking to a girl from rural North Carolina and being able to say, 'Here's what you can do. Here are the scholarships that are available,'" Brigid said of the impact philanthropic gifts can have. "Being able to tell these kids that opportunities are out there, and that they should absolutely believe in themselves and believe in their ability to achieve their goals is so rewarding."
The Troans have been active supporters of the College of Engineering and the College of Veterinary Medicine since graduating from the university. Erik currently serves as a member of the Computer Science Strategic Advisory Board and was inducted into the first class of NC State's Computer Science Alumni Hall of Fame in 2017. He was also a Distinguished Alumni Speaker for the Leaders of the Pack Series in 2021.
"NC State helps people within our community," Erik said. "North Carolina strives to make this school experience affordable for people from across our state. The commitment our state has shown to the education of our kids through institutions like NC State really sets our state apart."
~bell~
Return To News Homepage