CSC News
March 31, 2022
Senior Design Center's Posters & Pies Planned for April 27th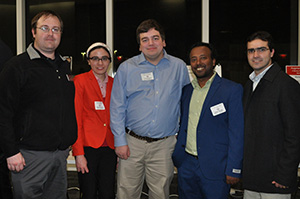 Please join us for the NC State Department of Computer Science Senior Design Center's "Posters & Pies" event on Wednesday, April 27th, from 6:00-8:00 p.m. in NC State's McKimmon Center.
Each of our Spring 2022 Senior Design teams will proudly show off project demonstrations and poster displays. Dessert pies, snacks and drinks will be served.
The event is sponsored by BlueCross BlueShield of NC, as well as the Computer Science ePartners Program and the NC State Engineering Foundation.
For directions to the McKimmon Center, please go to: https://mckimmoncenter.ncsu.edu/directions/. There is ample parking, and it's free.
This semester, the sponsors and projects are as follows:
ArgLab

: ArgDiagrammer

Bandwidth

: Chaos Engineering Tool

BlueCross BlueShield of NC

: Unification

Cengage

: WebAssign Planning Release Tool

Cisco

: Wellness Portal

Conceptualee Resources

: Field Service Management Platform

Concert Learning Orchestration CSC Group at NCSU

: Dashboard Reports Module

CS Help Group at NCSU & UVA

: A Block-Based Planning Tool for Novice CS Students

Data-Driven Tutoring CSC Group at NCSU

: Deep Thought – R&D Sandbox

EcoPRT

: Autonomous Vehicle Route Manager

Friday Institute & MCNC

: Rumble Harvester

#GoBeyond: AI 4 Ai

IBM 1

: Telescope Device Controller Phase 2

IBM 2

: Antimicrobial Resistance Expert System Phase 2

ICON

: Replay Honeypots Phase 6

JupiterOne

: Starbase Command Center

Kapravelos & Laboratory for Analytic Sciences 1

: Visible V8 Web

Katabasis 1

: Agricoding Phase 2

Katabasis 2

: Camp Coordinator Phase 2

King

: Collaborative Learning Objectives Report Generation

Laboratory for Analytic Sciences 2

: Nixon Recordings + Presidential Daily Diary

Laboratory for Analytic Sciences 3

: Enriching the Nixon Recordings

LexisNexis 1

: Business QRDS

LexisNexis 2

: InterAction QueryBuilder

Merck

: Supply Chain Risk-Based Decision Expert System

NC Parks & Recreation

: Next Gen System Sustainability

NCSU CCEE GeoQuake Lab

: E2SCALA

NCSU CSC Department 1

: Evaluation Scholar

NCSU CSC Department 2

: Course Scheduling Utility

NCSU CSC Senior Design Center

: Automated Slack Archiver

NCSU CVM + CSC Departments

: Poultry Bloodwork Reporting Tool

NetApp

: Passive Network Traffic Agitator

Oracle

: From Peer-Review to Crowd-Review

SAS

: DataGenius Phase 2

Siemens Healthineers

: Sentiment Analysis Software

STEM & Computing Education Group at NCSU

: SnapClass

Triangle Strategy 1

: ReMynda Medication Monitor: Caregiver/MD App & Organizer OS

Triangle Strategy 2

: ReMynda Medication Monitor: Pharmacy Client & Common Backend

Wake Tech Community College

: AR Protein Dynamics
Please come join us! The media is welcome to this event. If you plan to attend, please register online at http://go.ncsu.edu/csc-posters-pies by Friday, April 22nd, so that we may properly plan for refreshments.
Senior Design Center contacts:
Ms. Margaret R. Heil, Director, (919)515-6020, heil@ncsu.edu
Dr. Ignacio Domínguez, Assistant Director & Technical Advisor, ixdoming@ncsu.edu
Mr. Colin Potts, Technical Advisor, cmpotts@ncsu.edu
Dr. Jason King, Technical Advisor, jtking@ncsu.edu
Dr. David Sturgill, Technical Advisor, dbsturgi@ncsu.edu
Dr. Lina Battestilli, Technical Advisor, lbattestilli@ncsu.edu
Dr. Kathryn Stolee, Technical Advisor, ktstolee@ncsu.edu
Mr. Joseph Lutz, Teaching Assistant, jmlutz3@ncsu.edu
Mr. Stephen Kubik, Teaching Assistant, sjkubik@ncsu.edu
Mr. Parker Killian, Teaching Assistant, plkillia@ncsu.edu
Ms. Sonali Chaudhari, Teaching Assistant, sschaud2@ncsu.edu
Media & Corporate Partnership contact:
Ken Tate, (919) 513-4292, kmtate2@ncsu.edu
~coates~
Return To News Homepage