CSC News
January 31, 2022
Olingers Establish Largest Scholarship Endowment in Department History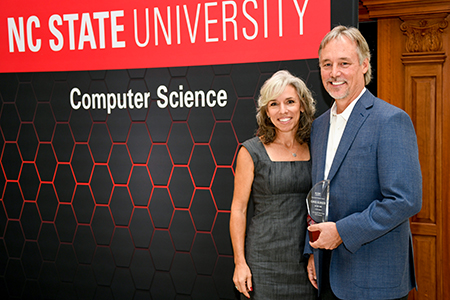 The department is proud to announce that CSC alumni couple, Anne-Marie and Chris Olinger, have made a securities gift valued at more than $264,000 to establish the Anne-Marie and Chris Olinger Entrepreneur Scholarship Endowment. This stands as the largest fully funded scholarship endowment in the history of the department to benefit computer science students.
This endowment will be used to provide scholarships to outstanding students who are pursuing an undergraduate degree in Computer Science (CSC) and who are affiliated with entrepreneurial efforts at NC State such as, but not limited to being involved with NC State Entrepreneurship and/or the CSC Undergraduate Entrepreneurship Track.
When asked about the significance of this gift, CSC Department Head, Dr. Gregg Rothermel, says "This is an incredibly generous gift from the Olingers that is most certainly a reflection of their admiration for the impact NC State had on their success, but it also represents their desire to help future generations of students who share their entrepreneurial passion and who may not otherwise be able to pursue their dreams."
"Giving back like this is vitally important. I want to live in a place where people are well educated, informed, and love the things that they do. NC State enabled that for us," says Chris Olinger. "This scholarship enables young adults who may have monetary issues to finish their educations. We also hope that it will help identify creative and innovative individuals that can have an impact on the state of North Carolina."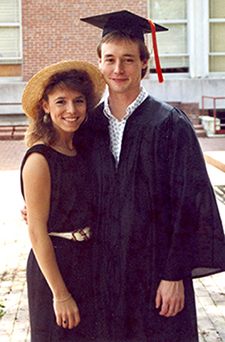 As undergraduate students at NC State, Anne-Marie and Chris Olinger met in the DH Hill library cafe. Chris graduated in 1989 from NC State University with his degree in Computer Science. Anne-Marie graduated magna cum laude in Computer Science at NC State University in 1987. She is honored to have cheered Coach V. and the Cardiac Pack to their championship in 1983.
Anne-Marie has worked at SAS since graduating, and she currently serves as a Principal Software Developer. Chris also joined SAS after graduation, but left after 15 years to co-found d-wise, a successful pharmaceutical analytics consulting company. As Chief Technology Officer at d-wise, he served for six years on the department's Strategic Advisory Board. In 2019, Chris was inducted into the NC State Computer Science Alumni Hall of Fame. Together they have raised three sons in the Raleigh area.
The Olingers are avid Wolfpackers, supporting both athletics and academics. They set up this scholarship as a tribute to their NC State friends and colleagues, whose academic rigor ranged somewhere between mediocre and top-level, yet managed to develop into successful business people, amazing parents, and cherished, lifelong friends. The Olingers acknowledge that, although grades are important, they are not the single determinant of one's success. The ability to think creatively with the courage to try new things can help you to achieve great things. You don't have to be the leader of every group or the top of your class to make significant, lasting and positive impacts on the world and those around you.
"It's an effort to try and give back and to say thank you, to ensure that others can come to N.C. State and have an opportunity to learn, and to recognize how important that opportunity was to us…To be able to assist others in being able to get a higher level of education, it's just very meaningful to be able to participate in that journey," says Anne-Marie.
"Simply, Anne-Marie and I would like to help creative and passionate young people experience and leverage the same NC State educational gift that we received. I hope this gift will help," says Chris.
~bell~
Return To News Homepage