CSC News
January 31, 2022
New CSCenter Offers Connection and Support for CSC Students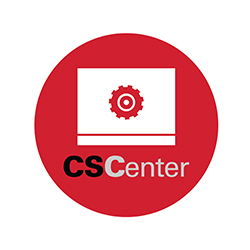 The Computer Science Department launched the Computing Success Center (CSCenter) last fall under the leadership of Dr. Sarah Heckman, Director of Undergraduate Programs and Alumni Distinguished Undergraduate Professor in the NC State Department of Computer Science. The CSCenter is a new initiative to develop a departmental community and provide educational support for computing students. The CSCenter's vision is to provide a locus of student support that provides both physical and virtual spaces for students to find resources and help; connect with peers, advisors, and faculty; and find ways to engage in outreach, service, and research. The CSCenter currently has two ePartner sponsors, Deutsche Bank and Truist.
With the goal of ensuring the success of computing students, the CSCenter hosts a variety of workshops each month. These workshops are led by a variety of NC State faculty members and other university representatives, and provide helpful information and connect undergraduate and graduate students to campus resources. Some of the topics include studying abroad, co-op, becoming a CSC Service course grader, and pursuing the Accelerated Bachelors/Masters (ABM) program. In addition to workshops about NC State programs, the center hosts workshops that provide students with valuable skills to help them experience success in college and in their future careers. Some of the workshops include overcoming imposter syndrome, resume building, internship/job search strategies, time management, and note-taking skills.
"Attending that workshop benefitted me just by learning what Imposter Syndrome is…having a word to assign to what I'm feeling. Having the conversation, and just having to talk to people who've experienced the same thing, and who've had more experience with it, really helped kind of assuage that kind of irrational fear…I would recommend these workshops just because they're fun. They're fun because these are things that you don't really learn in class. These are life skills. These are things you can put on your resume," says Timothy Japit (Aerospace Engineering Major and Computer Science Minor) about the Imposter Syndrome workshop.
CCS student Raphael Phillips, says, "I've attended Dr. Heckman's 'Semester Planning,' 'Weekly Reviews,' and 'Habits and Rituals' workshops, and I have also attended the 'Tips to Become an CSC Service Course Grader' workshop. Dr. Heckman's workshops were all themed based on organizing your life in the midst of complicated college life. I've been keeping more weekly goals over the semester based on these talks."
"The goal of the Computing Success Center is to provide support for computer science students academically, professionally, and socially. We have provided events on time management/productivity/wellness, advising and university resources, and career. In the future, we're planning technical workshops on technologies and tutorial sessions for topics in early computing courses. The Computing Success Center centralizes the out-of-class resources in our department and the university," says Heckman.
Watch the Computer Science Department's calendar for upcoming CSCenter events.
~bell~
Return To News Homepage