CSC News
December 17, 2021
Congratulations CSC Fall 2021 Graduates!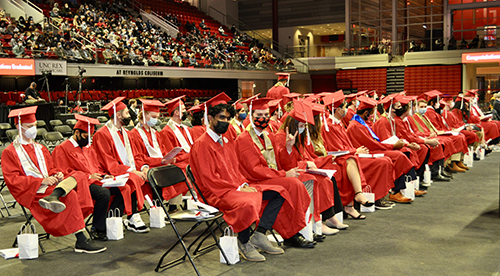 More than 130 Computer Science graduates were honored during the Fall 2021 Diploma Ceremony on December 10 in the James T. Valvano Arena inside NC State's Reynolds Coliseum. Hundreds of friends and family members gathered to celebrate the graduates. This year's graduating class of over 130 students included 16 Ph.D., 32 M.S., and 87 B.S. degree recipients.
The graduating class included one Benjamin Franklin Scholar: Griffin Robert Bussing; five Computer Science Honors Program participants: Andrew Bennison, Dominic Brown, Wenyu Huang, and Pradhan Sudhanva Gowda Chetan Venkataramaiah; seven University Scholars Program participants: Andrew Paul Bennison, Nicole Marie Colberg, Emily Dreyer, Christina Guirguis, Jason Michael Hurst, Rhea Maria John, and Michael Manh Duy Le; three University Honors Program participants: Brandon James Daggerhart, Rhea Maria John, and Vincent Jian Xin; and numerous members of a variety of scholastic honor societies.
The CSC Diploma Ceremony featured two undergraduate student speakers, Shalini Balagopal and Ryan Catalfu.
Balagopal graduated magna cum laude. She participated in the Study Abroad Program, taking courses at Lancaster University in Lancaster England. In her remarks, she told her fellow graduates that they had each been on a unique journey leading up to this moment. Balagopal first enrolled at NC State in 2013, but she withdrew and took time off several times due to financial hardship and the sudden loss of her sister. She told the graduates, "When we encounter so many roadblocks, it can be difficult to believe that we are even on the right path. Maybe you felt the same at some point. Still, we kept trying despite everything. We're finally graduating and moving into the next chapter of our lives. It took me eight years. However many years it took you at college and for all the things you had to endure along the way, you still made it here today and that is something to be really proud of!"
Catalfu, a Computer Science Student Ambassador, graduated summa cum laude with minors in environmental science and graphic communications. He reminded the graduates and everyone in the audience that "NC State is about so much more than outstanding academics!" He added, "I would like to thank our professors for pushing us to solve problems, to work together, and to learn how to effectively regroup when something goes wrong. I'm grateful for the exposure to the benefits of diversity and inclusion while fostering a sense of belonging and community."
Catalfu concluded his remarks saying, "The Computer Science Department has prepared us to make a difference. When we learn a new language, we start by saying 'Hello world.' It's finally time to look beyond college and say 'Hello world' to life!"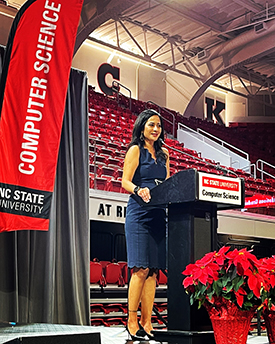 We were honored to have NC State alumna Dr. Kamala Subramaniam provide the keynote address. She received both her master's degree and her PhD from NC State's Electrical and Computer Engineering Department, and she serves on the NC State Computer Science Department's Strategic Advisory Board.
She is currently the Google Engineering Site Lead in Durham, NC, where she is responsible for growing Google Cloud's presence in North Carolina and building an ecosystem that includes academia, industry and local communities. In her current position, Subramaniam focuses on research, scientific discovery and technological advancement, all with a keen focus on diversity and inclusiveness. She is also the Diversity and Inclusion leader for Google Networking, and Founder of WiNS (Women in Networking Summit).
In her remarks, Subramaniam said that she didn't graduate with a perfect GPA, or the dream campus job. What she left with is strong fundamentals in engineering, the love of her professors and administrators, and the best friends that she made for life, all right here on campus. She went on to share with the graduates some anecdotes and lessons she has learned in the 15 years since her graduation.
Her lesson number one: complacency is the kiss of death. "The moment you reduce expectations of yourself, you risk complacency," said Subramaniam. To bust herself out of complacency, she exercises a 70/30 variation of a rule – 30% of what she does each day is going to make her uncomfortable. When she is uncomfortable, she is learning new skills and building new sets of muscles for her next job. Her lesson number two: you are the CEO of your career and your life. Build on your self-assurance, and the ability to say to a job when everyone around you are being naysayers. Practice autonomy – the ability to trust the choices that you make for yourself and ensure that wherever you are, you're in a place where you feel included. Her lesson number three: Leave behind a legacy – the story you leave behind for others to tell, the impression you leave on the next generation. She said, "It's not comprised of material things, but of character, conviction, and compassion. Focus on intentional and strict prioritization of your life, not work."
Subramanian's fourth and final lesson relates to her discovery of the spiritual Japanese concept called the Ikigai, which can be translated simply to "the reason for which you wake up in the morning." For her, Ikigai is "ensuring that you have four aspects covered: 1) you love what you do, 2) you're great at what you do, 3) the world needs what you do, 4) and you get paid for it. She added, "I wish I had early on invested in the Ikigai and let that be the north star of my life."
She concluded by saying, "There is a passion in each one of you, a unique talent that brings your life purpose and meaning. Discover it, and live it."
Our special thanks go to the Computer Science Department ePartners Program, its participating corporate sponsors, and the NC State Engineering Foundation for their generous sponsorship of this ceremony.
Please click here to view a recording of the CSC Fall 2021 Diploma Ceremony. Congratulations to all of our Fall 2021 Computer Science graduates!
~coates~
Return To News Homepage